Etymology
Genus
An anti-depression (Nepenthe) used by Helen of Troy on her guests in Greek mythology
Species
From Latin, where tricho = hairy, carpus = fruit
Family
Nepenthaceae
Synonyms
-
Common Names
Hairy-Fruited Pitcher Plant
Status
Native: Undetermined
Form
Herbaceous Climber
Native Distribution
Peninsular Malaysia, Sumatra & Borneo
Diagnostics:
The leaves of the Nepenthes x trichocarpa are usually broader or lanceolate, unlike the typically narrow and linear leaves of Nepenthes gracilis. On the other hand, it has the distinct leaf wings overlapping the stem as with Nepenthes gracilis. The vegetative portions of the plant is usually hairless.

It forms upper pitchers readily unlike Nepenthes ampullaria, where upper pitchers are rare. The pitchers generally appear smaller and stockier.
Interesting Facts:
The Hairy-Fruited Pitcher Plant is a hybrid of Nepenthes ampullaria and Nepenthes gracilis. As a result this species contains characteristics from both plants.

It can be found in Kent Ridge Park, MacRitchie Reservoir, Pulau Ubin, and Upper Pierce Reservoir (Chan KL et al., 1997).
A small individual with upper pitchers. Note the lanceolate leaves.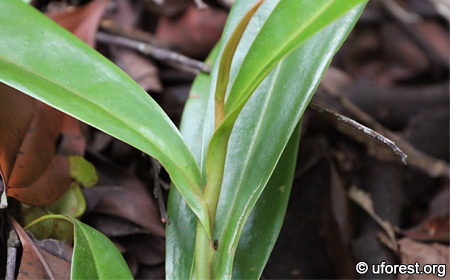 Developed leaf wings similar to Nepenthes gracilis.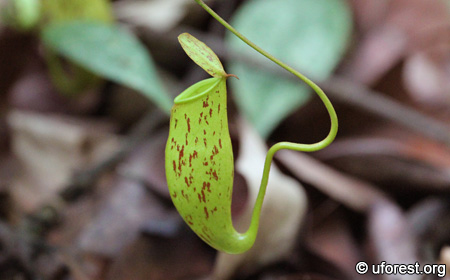 An upper pitcher.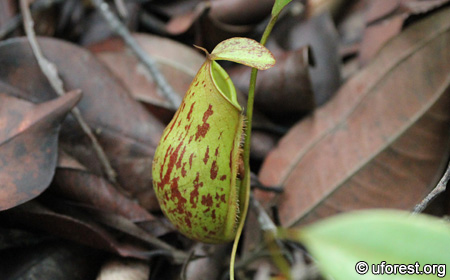 A lower pitcher.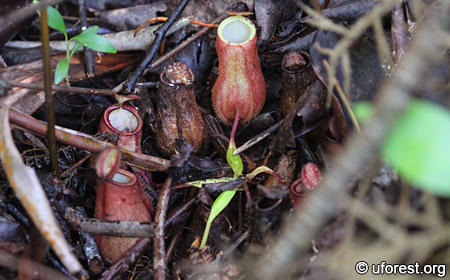 Cluster of reddish lower pitchers.
References
Chan KL, LMJ Chen, JPS Choo, TL Koh, TM Leong, PKL Ng, HTW Tan, WK Tan & CL Wong. (1997) A Guide to the Carnivorous Plants of Singapore. Singapore Science Centre, Singapore. 176 pp.
Author: Jake
Posted: 2017-11-02 / Modified: 2019-08-27