Diagnostics:
The leaflets are more or less rhomboid in shape, and they are the smallest near the start of the branch, which ends with the largest at the tip. A mature Albizia saman has a magnificent wide spread of canopy which made it immediately distinct from far.
Interesting Facts:
This tree was introduced to Singapore in 1876 (Wee, 2003), and have since became the most identifiable tree here, partly because of its large size and sheer number of individuals cultivated. As of 2009, 26,226 Rain Trees were found along roadsides, making it top in the list of the most commonly cultivated roadside tree (Tan et al., 2009).
The Rain Tree is distinctive in many ways. The primary branchings start early; therefore having a short trunk. These then extend to a wide-spreading canopy which makes it an ideal shade plant. Pure stands were sometimes grown on both sides of the road (e.g., Upper Thomson Road before Seletar Expressway) to create an enclosing canopy or "green tunnel". When they flower, the trees will be flushed with clusters of showy pink flowers. During evenings (about 5 o'clock) and at rainy weather, the leaflets will religiously droop their leaflets, thus arising to their two common names.
A variety with yellow leaves (Albizia saman 'Yellow') was found in 1950s within Singapore and now intentionally propagated (Corlett, 2011).
The best place to see the Rain Tree in their majestic glory is to travel down from Changi Airport to the ECP (East Coast Park Expressway). All the trees lining the center divider and kerbs are well-maintained Rain Trees This, together with various cultivars of colourful Bougainvilleas, give tourists a spectacle to behold when entering the Garden City.
Ecologically, their flowers attract nectivorous birds, butterflies, and even squirrels! They are also excellent trees for epiphytes (probably the best species in terms of epiphyte abundance), and mature trees are often engulfed with them.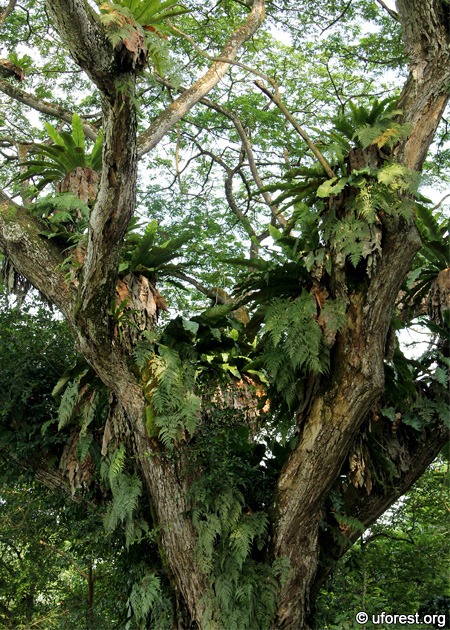 One of the best trees for attracting epiphytic ferns.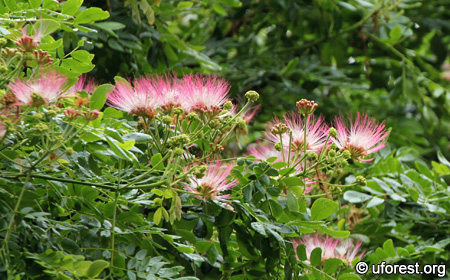 Synchronised blooming of pink fluffy flowers.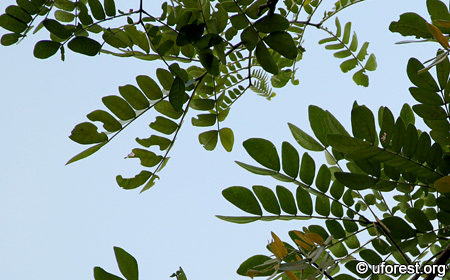 Diagnostic of Rain Tree. Rhomboid leaflets grow from small to big.
References
Corlett RT. (2011) Rain Tree Albizia saman. In: Ng PKL, RT Corlett & HTW Tan (Eds.) Singapore Biodiversity: An Encyclopedia of the Natural Environment and Sustainable Development. Raffles Museum of Biodiversity Research, Singapore. pp 427.
Tan PY, B Yeo, WX Yip & HS Lua. (2009) Carbon Storage and Sequestration by Urban Trees in Singapore. Centre for Urban Greenery and Ecology, National Parks Board, Singapore. 14 pp.
Wee YC. (2003) Tropical Trees and Shrubs: A Selection for Urban Planting. Sun Tree Publishing, USA. 392 pp.
Author: Jake
Posted: 2012-10-06 / Modified: 2018-11-20