Etymology
Genus
After clitoris, because of the resemblance of the flower form to the female organ
Species
After Ternate Island, Indonesia, where the species was first found by Linnaeus
Family
Fabaceae
Synonyms
-
Common Names
Butterfly Pea Vine
Status
Exotic: Naturalised
Form
Herb
Native Distribution
Obscure
Diagnostics:
Clitoria ternatea is a climber, commonly cultivated by residents, and also a common sight in wastelands. It can be recognised from the purple flowers and pinnate leaves (of 5-9 leaflets).
Interesting Facts:
The flower of the Butterfly Pea Vine is frequently used in the colouring of food like glutinous rice (Pulut Tai Tai), cakes, and even tea. Recently, Researchers from the National Technological University of Singapore extracted a ligase, butelase-1 (Nguyen et al., 2014). This is significant as only 3 other of such enzymes are known, and furthermore, is said to operate 10,000 times faster and more cleanly without residues. This can help to speed up the search for new drugs and treatments (Today, 2014).
Naturalised habitat of the Butterfly Pea Vine in a wasteland.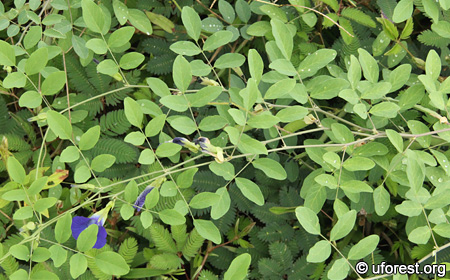 Branching.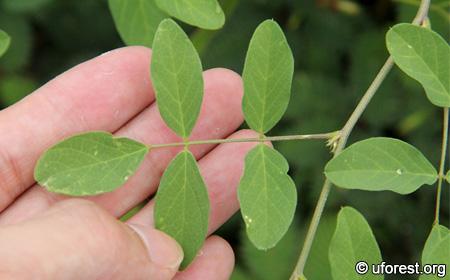 Pinnate leaf, with 5 leaflets.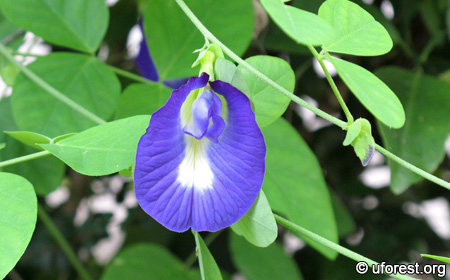 Flower.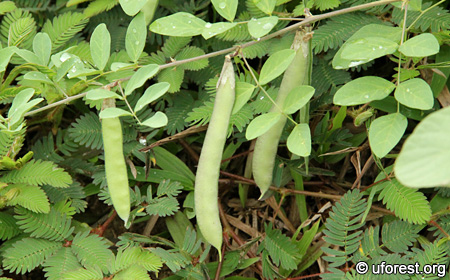 Fruits.
---
References
Nguyen GKT, Wang S, Qiu Y, Hemu X, Lian Y & Tam JP. (2014) Butelase 1 is an Asx-specific ligase enabling peptide macrocyclization and synthesis. Nature Chemical Biology, 10: 732-738.
Today (2014) Local herb could aid in new drugs development: NTU. Today, Singapore. 20-Oct-2014.
Author: Jake
Posted: 2014-10-27 / Modified: 2018-12-20