Etymology
Genus
After Richard Richardson, an English botanist
Species
Rough; referring to the leaf texture
Family
Rubiaceae
Synonyms
Plethyrsis glauca Raf., Richardia pilosa Ruiz & Pav., Spermacoce hirsuta Willd. ex Roem. & Schult.
Common Names
Rough Mexican Clover
Status
Exotic: Naturalised (pers. obs.)
Form
Herb
Native Distribution
Tropical America and USA
Diagnostics:
A prostrate herb with succulent and very hairy stems. The leaf is covered fine hairs which gives a rough texture. The flowers occurred terminally and sits on two pairs of leafy bracts, with one pair smaller than the other.

Interesting Facts:
The Rough Mexican Clover is naturalised throughout the Old World tropics and even up north to China and Taiwan (eFloras, 2008).

A length of Rough Mexican Clover among other weeds in a manicured lawn.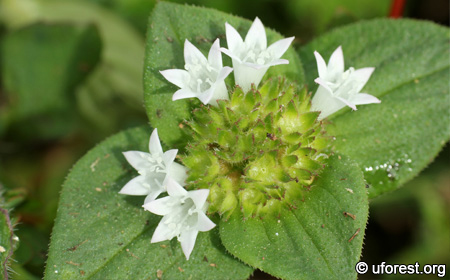 The white flowers rest on two pairs of leafy bracts.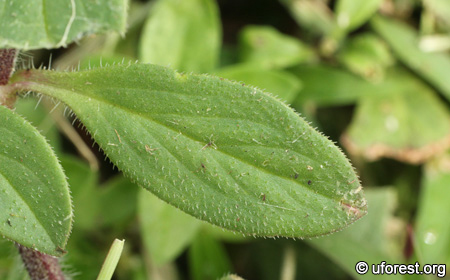 The leaf is covered with recurved hairs that makes it rough to touch.
The stem is completely hairy.
---
References
eFloras (2008) Richardia scabra Linnaeus. Flora of China. Missouri Botanical Garden, St. Louis, MO & Harvard University Herbaria, Cambridge. http://www.efloras.org/. Accessed on 15-Mar-2013.
Author: Jake
Posted: 2013-03-15 / Modified: 2015-01-11