Etymology
Genus
After Carl Peter Thunberg, a Swedish botanist
Species
Fragrant
Family
Acanthaceae
Synonyms
Roxburghia rostrata Russell ex Nees
Common Names
Sweet Clock Vine, White Lady, White Thunbergia
Status
Exotic: Naturalised
Form
Climber
Native Distribution
Southeastern Asia and Malesia
Diagnostics:
Thunbergia fragrans have a very distinct leaf shape, which always reminds me of a knight's shield. It has a pronounced drip-tip and two short wings at the base. It climbs via its twining stem. It is common at open forest edges and seem to be able to tolerate semi-shade too.
Interesting Facts:
Henderson (1959) said that it is found natively on limestone at the north of Peninsular Malaysia.

The Sweet Clock Vine is a common climber of sunny areas.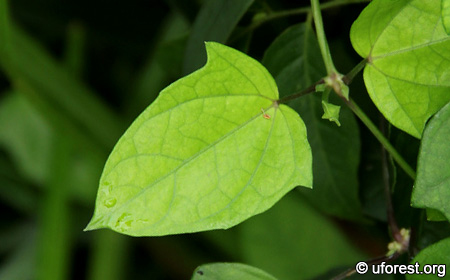 The leaf shape is very distinctive with two short lobes at the base.
Flowers are white and five petaled.
Fruit is a capsule with an extended 'beak'.
---
References
Henderson MR. (1959) Malayan Wild Flowers: Dicotyledons. Malayan Nature Society, Kulau Lumpar, Malaysia. 478 pp.
Author: Jake
Posted: 2013-03-21 / Modified: 2017-12-25