Etymology
Genus
From Greek meaning point; referring to the the bracts in the flower head which are spear-like
Species
Changing; reference to plant unknown
Family
Araceae
Synonyms
Aglaonema maculatum Blume, Aglaonema commutatum var. commutatum
Common Names
Chinese Evergreen, Silver Queen Aglaonema
Status
Exotic: Casual
Form
Herb
Native Distribution
Indonesia, Philippines
Diagnostics:
Aglaonema commutatum is a herb that is grown ornamentally, and also found remanent in the undergrowth of our forests that were once plantations. Its lanceolate leaves are covered with botches of silver grey along the veins. The leaf stalk is usually 1-1.5 times compared to the leaf blade (PIER, 2007).
Interesting Facts:
There are a number of cultivars with various shades of colour on the leaves. The one in our forests appear to have fewer botches of silver, similar to the one shown in FloraFaunaWeb (n.d.). All parts of the plants contain sharp microscopic oxalate crystals, making them unpalatable and possibly irritable to touch.
A wide spread of Chinese Evergreen in a secondary forest.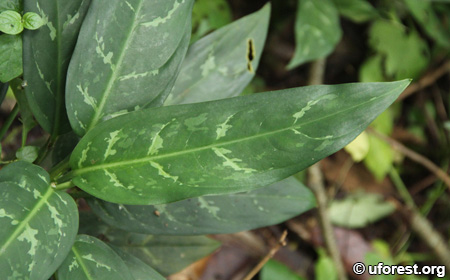 Varigated leaf.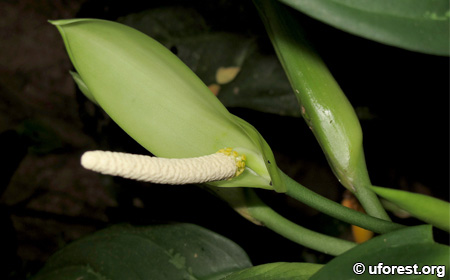 Inflorescence.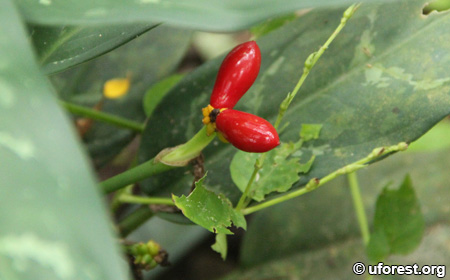 Ripe fruits.
References
FloraFaunaWeb. (n.d.) Aglaonema commutatum (form with slight silver/grey variegation). National Parks Board, Singapore. https://florafaunaweb.nparks.gov.sg. Accessed on 23-Nov-2018.
PIER (2007) Aglaonema commutatum. Pacific Island Ecosystem at Risk (PIER), Institute of Pacific Islands Forestry. http://www.hear.org/pier/. Accessed on 23-Nov-2018.

Author: Jake
Posted: 2018-11-25