Etymology
Genus
From aleuron (wheat flour), referring powdered appearance of young leaves
Species
From the Molucca Islands
Family
Euphorbiaceae
Synonyms
Aleurites ambinux Pers., Aleurites integrifolia Vieill., Aleurites remyi Sherff
Common Names
Candlenut, Indian Walnut
Status
Exotic: Casual
Form
Tree
Native Distribution
Southeast Asia
Diagnostics:
Aleurites moluccana is an urban tree growing up to 15m (Wee, 2003). It has a distinct smooth greyish bole, and young leaves with whitish scurf which weathers off with age. The mature leaves are spear-head shaped with smooth but wavy margins whereas the young leaves may have tri-lobed shapes and toothed edges. The creamy inflorescences are situated terminally on leafy branches.
Interesting Facts:
The Candlenut tree was so named because oil extracted from the seeds were once used to make candles (Wee, 2003). The seeds were also formerly used in Hawaii, where it is burnt as a source of light.

Form of the Candlenut at Siglap Park Connector.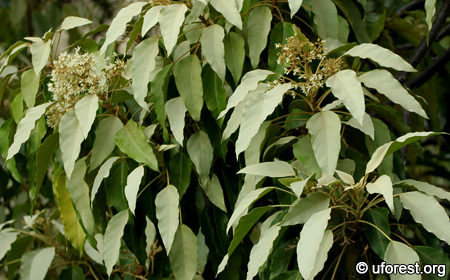 Young leaves are whitish.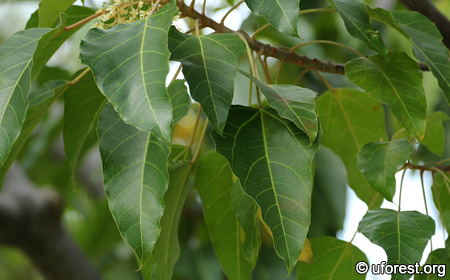 Leaf edges varies from toothed and wavy to entire.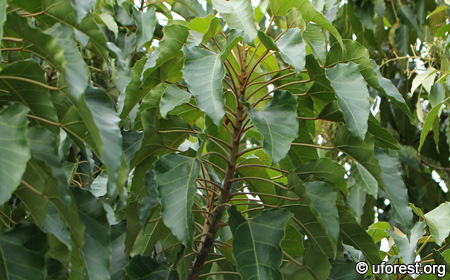 Spiral arrangement of leaves.
Infloresences with cream flowers grow on the end of branches.
Bark is smooth and greyish.
References
Wee YC. (2003) Tropical Trees and Shrubs: A Selection for Urban Planting. Sun Tree Publishing, USA. 392 pp.
Author: Jake
Posted: 2013-12-22 / Modified: 2017-12-25