Etymology
Genus
Ivy (cissus) vine (Ampelo)
Species
Elegant
Family
Vitaceae
Synonyms
-
Common Names
Elegant Ivy Vine
Status
Native: Endangered
Form
Herbaceous Climber
Native Distribution
Myanmar, Thailand, Peninsular Malaysia, and Singapore
Diagnostics:
Ampelocissus elegans is a sun-loving herbaceous climber. The shape of the trifoliate leaves as well as the rusty brown veins are very distinctive. The stem and tendrils also sport the same colouration.
Interesting Facts:
The Elegant Ivy Vine can be found in the Central Catchment and Bukit Timah Nature Reserves, Western Catchment forest, Mount Faber Park as well as in the islands of Pulau Ubin and Pulau Tekong (Yeo et al., 2013).

The Elegant Ivy Vine climbing over a tree at the forest edge of Central Catchment Nature Reserve.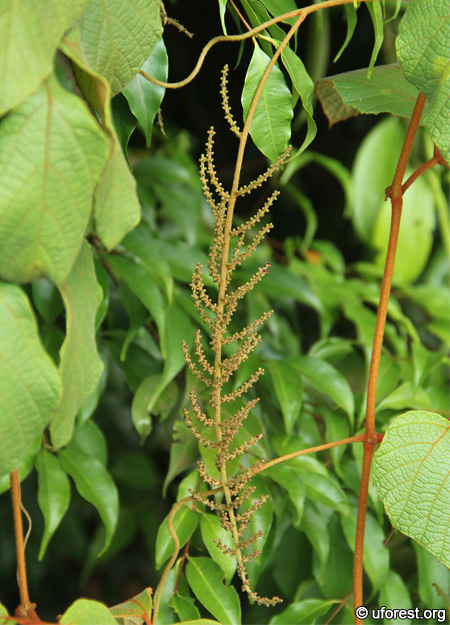 The inflorescence is borne from the tendril.
Berries ripen to red about 1cm wide.
Trifoliate leaf. The shape is its diagnostic.
References
Yeo CK, WF Ang, AFSL Lok & KH Ong. (2013) The conservation status of Ampelocissus Planch. (Vitaceae) of Singapore, with a special note on Ampelocissus ascendiflora Latiff. Nature in Singapore, 6: 45-53.
Author: Jake
Posted: 2012-08-03 / Modified: 2017-12-25