Etymology
Genus
After Avicenna (Ibn Sina) a 2nd century Persian physician-philosopher
Species
White; referring to the white leaf underside
Family
Acanthaceae
Synonyms
-
Common Names
Api Api Putih
Status
Native: Common
Form
Tree
Native Distribution
India to Southeast Asia, Papua New Guinea and tropical Australia
Diagnostics:
Avicennia alba is a common tree that grows at the seaward side of the mangroves. As with all in the genus, it has thin pencil roots that sticks out of the mud. The leaves are diagnostic with usually narrow and pointed leaves with white underside. The fruits are tear-drop shaped.
Interesting Facts:
Api Api Putih is a pioneering species that grows on newly formed mud, with its roots said to aid in sediment accretion and land building (Giesen et al., 2006). From Giesen et al. (2006), it has various uses, including: "firewood and low quality construction timber; sap used to prevent pregnancy, seedlings cooked and eaten as a vegetable; seeds are a source of resin and ointment for treating skin diseases and wounds."
Api-Api at Yishun Dam, 2019.
Spreading pencil roots sticking out of the mud.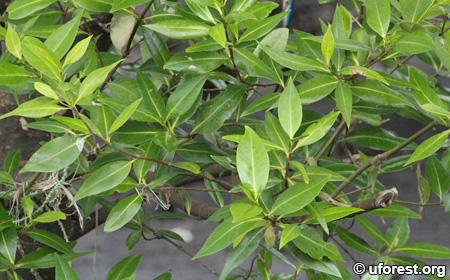 Leaves are glossy due to the salt deposition after excretion from the leaf surface.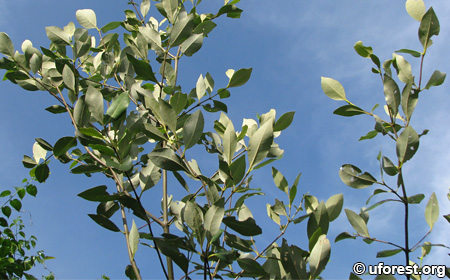 White underside of the leaves.
Variation of leaf shape.
Leaf underside.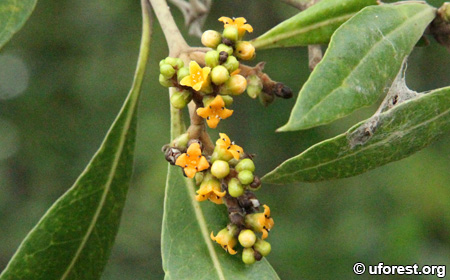 Flowers.
Tear-shaped fruits.
References
Giesen W, Wulffraat S, Zieren M & Scholten L (2006) Mangrove guidebook for Southeast Asia. RAP Publication 2006/07. FAO Regional Office for Asia and the Pacific and Wetlands International. Bangkok. 769 pp.
Author: Jake
Posted: 2019-02-05