Etymology
Genus
Latin name for Ivy
Species
Spear-shaped; referring to the leaf shape
Family
Vitaceae
Synonyms
Vitis hastata (Miq.) Miq.
Common Names
Spear-Shaped Cissus
Status
Undetermined
Form
Climber
Native Distribution
India, Southeast Asia and Australia
Diagnostics:
Cissus hastata is a common climber, with angular stems, usually reddish tendrils and prominent arrow-shaped leaves.
Interesting Facts:
From Aguilar (2016), in Malaysia "the leaves are pounded and used to poultice boils, or are boiled and put on the abdomen for ague." While in Thailand, the "leaves, stems, or fruits are used for coughs, as an expectorant and as an anti-emetic."
Climbing over a shrub at Yishun Ave 1, 2019.
Alternate leaf arrangement.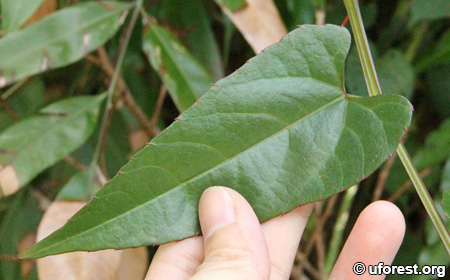 Leaf.
Angular stem and red tendrils.
Unripe fruits.