Etymology
Genus
Red; probably referring to the colour of the ripe fruit
Species
Large or spectacular; reference to plant unknown
Family
Cucurbitaceae
Synonyms
Bryonia grandis L.
Common Names
Ivy Gourd
Status
Exotic: Naturalised
Form
Climber
Native Distribution
Throughtout the Old World (northern tropical Africa to India to nothern tropical Australia)
Diagnostics:
Coccinia grandis is a very common sun-loving climber. It is very easy to recognise by remembering the three main leaf forms, which can appear as one, three, or five-lobed. One or all of the forms may be present in a single individual plant. The margins are lined sparsely, but evenly with small teeth.
Interesting Facts:
The Ivy Gourd is monoecious, i.e., each flower on an individual can be either a male or female. Their outward appearance is very similar, but the male flower's stamens are finger-like and hairy, while the female's stigma are bi-lobed. Another way is to just look out to the swollen ovary just below the petal which is indicative of a female flower.

The fruits are green with longitudinal white stripes. They ripen to become red except for the base (De Wilde & Duyfjes, 2010). They are eaten and dispersely mainly by birds.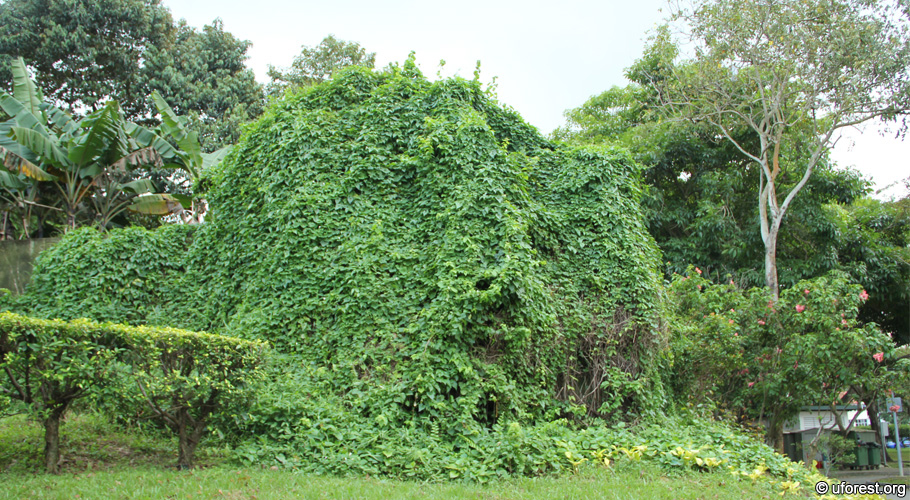 A wall being engulfed by Coccinia grandis and another common vine, Mikania micrantha.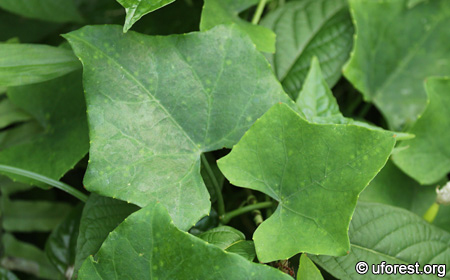 One lobed leaves.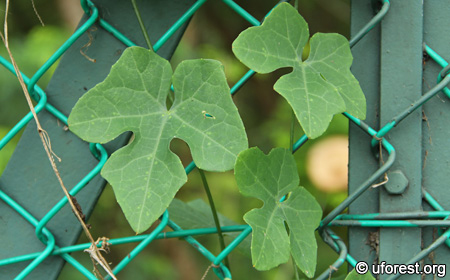 Three lobed leaves.
Five-lobed leaves.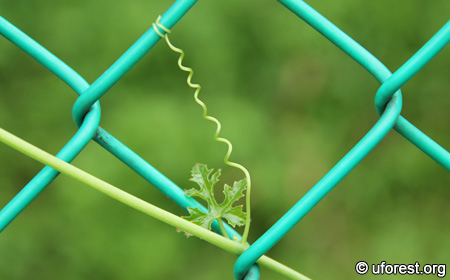 Coiling tendrils are opposite to the leaf.
Male flower. Note the hairy finger-like stamens.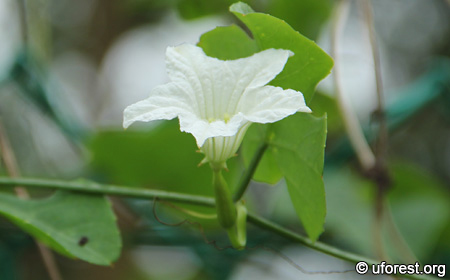 Female flower. Note the swollen ovary at the base of petal.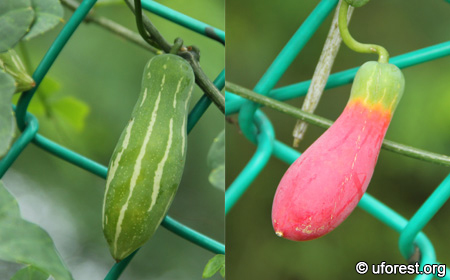 Fruit with white stripes (left), turning red when ripe (right).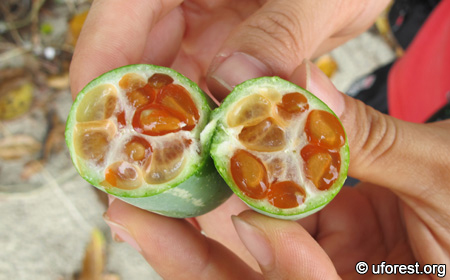 Cross section of fruit.
References
De Wilde Wjjo & Bee Duyfjes. (2010) Cucurbitaceae. Flora Malesiana, 19: 1-342.
Author: Jake
Posted: 2012-01-18 / Modified: 2017-12-25