Etymology
Genus
After the brothers Nicholas and Carl Gustav Dahlberg, who are Swedish botanists
Species
After Daniel Oliver, an English botanist
Family
Fabaceae
Synonyms
Dalbergia laccifera Laness., Dalbergia prazeri Prain
Common Names
Tamalan
Status
Exotic: Cultivated Only
Form
Tree
Native Distribution
Indochina
Diagnostics:
Dalbergia oliveri is quite commonly found cultivated in parks and within housing estates. It is quite easy to identify from its graceful foliage: an open crown with droopy and feathery compound leaves.
Interesting Facts:
On closer inspection, the leaflets are small (about 2 cm), oval and alternately arranged. The flower buds are purple, turning pink and then white when they bloom (Wee, 2003).

While common as a cultivated tree, the Tamalan listed as endangered by the IUCN red list because of over-explotiation for its wood in its native habitat (IUCN, 1998). The timber is known in the industry as the Burmese Rosewood.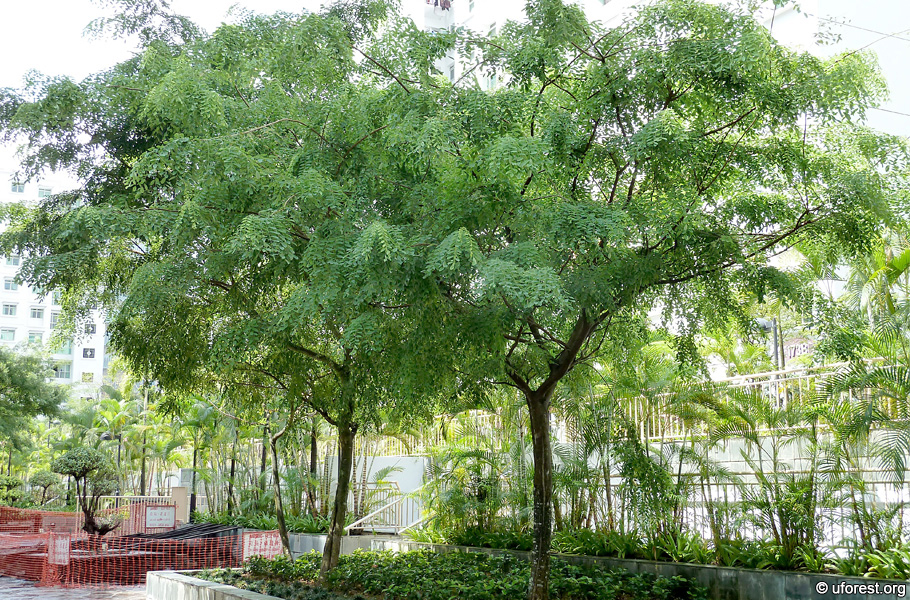 The Tamalan, showing its distinct droopy foilage.
The leaves consists of many tiny leaflets.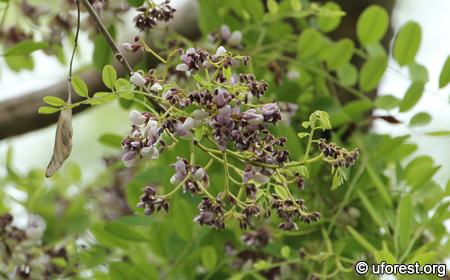 Flower buds are in purple, while those in white have bloomed.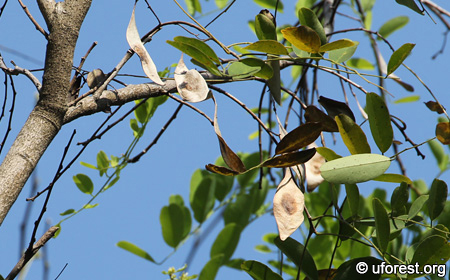 Fruit pods are flat and normally single-seeded.
References
Wee YC. (2003) Tropical Trees and Shrubs: A Selection for Urban Planting. Sun Tree Publishing, USA. 392 pp.
Nghia NH. (1998) Dalbergia oliveri. IUCN Red List of Threatened Species. Version 2012.2. International Union for Conservation of Nature. http://www.iucnredlist.org. Accessed on 10-Mar-2013.
Author: Jake
Posted: 2013-03-10 / Modified: 2017-12-25