Etymology
Genus
Conspicuious (Delos) claw (onux); referring to the claw-like long petals
Species
Royal
Family
Fabaceae
Synonyms
Poinciana regia Hook.
Common Names
Flame of the Forest
Status
Exotic: Cultivated Only
Form
Tree
Native Distribution
Madagascar
Diagnostics:
Delonix regia is an attractive, elegant cultivated tree found in our parks and other compounds. It can be easily identified from the branches that droop downwards and then curved slightly up, but might not be always as distinct especially when the tree is pruned. The bipinnate leaves has very small and numerous leaflets compared to other cultivated legume trees. The flowers and fruits are equally unique; flowers mass bloom to a canopy of red, while the legume is very large (up to 50cm long) and flat.
Interesting Facts:
The Flame of the Forest was first discovered in Madagascar at 1820 and was introduced to Mauritius (Wee, 1986). Since then, it was introduced throughout the tropics and other countries, including Singapore around 1840.
The Flame of the Forest in Ho Chi Minh, Vietnam. Note the diagnoistic branching which sags downwards.
Bipinnate leaves.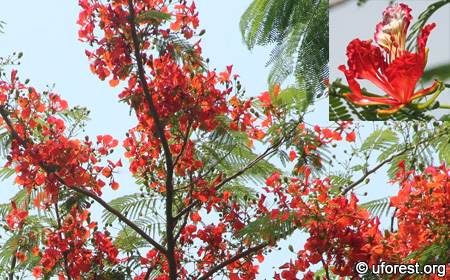 Flowers and its close-up.
Ripe overhanging fruits.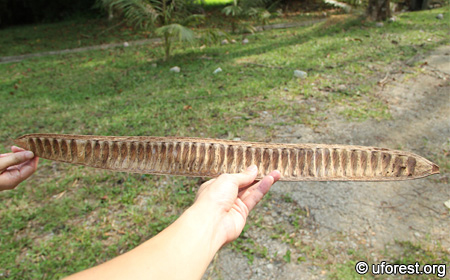 One half of the dehisced legume, with my hand as a size comparison.
References
Wee YC & R Corlett. (1986) The City and The Forest. Plant Life in Urban Singapore. National University of Singapore Press, Singapore. 186 pp.
Author: Jake
Posted: 2014-06-07 / Modified: 2017-12-25