Etymology
Genus
Two-winged (Dipteras) fruit (karpos)
Species
Fruits are sub-lamellated; referring to the wavy ridges
Family
Dipterocarpaceae
Synonyms
-
Common Names
Keruing Kerut
Status
Native: Vulnerable
Form
Tree
Native Distribution
Peninsular Malaysia, Singapore, Sumatra, and northern Bornero
Diagnostics:
Diptercarpus sublamellatus can found in our Central Catchment Nature Reserve as well as at Changi where a single lone tree still stands. It can be recognised from the small ridged leaves (about 11cm long), and small fruits. The fruit has prominent wavy ridges and is attached with two short wings.
Interesting Facts:
Keruing Kerut is said to be one of the most important sources of keruing timber in the Malay Peninsular (Symington, 2007). It is recognised as a globally endangered species by the IUCN.
Designated heritage tree of Keruing Kerut at Changi.
It is one of the shorter winged Dipterocarpus species relative to the fruit.
Peeling bark.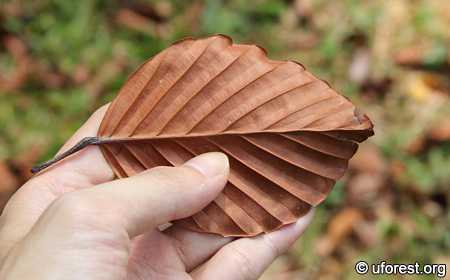 Small leaf, about 10-nerved.
Note the hairy stipule.
References
Symington CF. (2007) Foresters' Manual of Dipterocarps. Forest Research Institute Malaysia, Malaysian Nature Society, Kulau Lumpur. 519 pp.
Author: Jake
Posted: 2014-08-29 / Modified: 2017-12-25