Etymology
Genus
After Sir William Turner Thiselton-Dyer, an English botanist
Species
Full of small ribs; likely referring to the branching
Family
Apocynaceae
Synonyms
Alstonia costulata Miq.
Common Names
Jelutong
Status
Native: Common
Form
Tree
Native Distribution
Indochina, Borneo, and Indonesia
Diagnostics:
Dyera costulata can be easily identified from its branching where they curve upwards from a point. This might not be apparent for a mature tree it is still possible to observe this trait from their secondary branchings using a pair of binoculars.
Interesting Facts:
Jelutong is a commonly cultivated tree also found natively in our forests. Corner (1997) spoke of the largest specimen ever recorded in Malaya (Senaling Inas Forest Reserve) which has a height and girth of about 60m and 6.5m respectively.
A huge mature Jelutong in the Central Catchment Nature Reserve.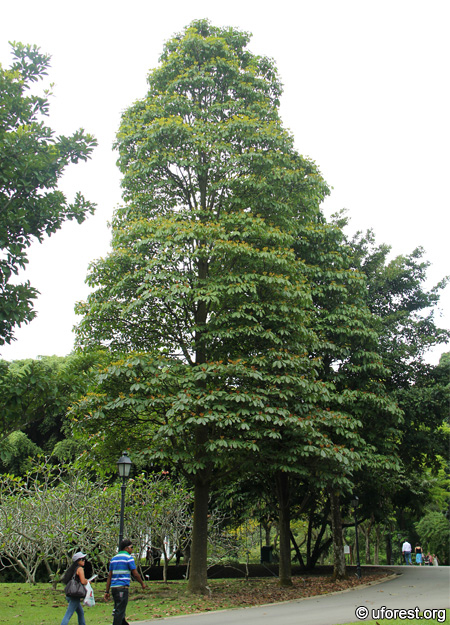 A younger form in Singapore Botanic Gardens.
Leaves are spirally arranged.
Diagnostic upward curved branching from a single point.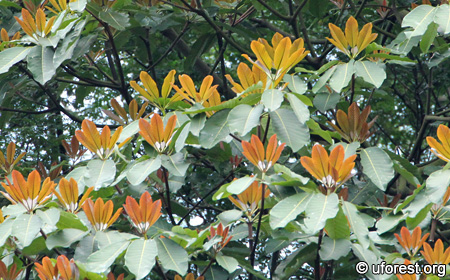 Young flush of leaves.
Fruits.
References
Corner EJH. (1997) Wayside Trees of Malaya. Volume 1. 4th edition. The Malaysian Nature Society, Kuala Lumpur. 476 pp.
Author: Jake
Posted: 2014-05-25 / Modified: 2017-12-25