Etymology
Genus
unknown
Species
unknown
Family
Menispermaceae
Synonyms
-
Common Names
Akar Kunyit
Status
Native: Common
Form
Climber
Native Distribution
Indochina, Malesia
Diagnostics:
A native woody climber that is very common in secondary forests. The leaf is tri-veined from the base, and has a long petiole that is swollen on both ends. The flowers appear as panicles, and the fruits ripen to orange.

Interesting Facts:
The stem of the Akar Kunyit produces a yellow sap, which is used to dye mattings or clothes (Globinmed, 2016). Some traditional medicinal uses include the treatment of Syphilitic ulcers, wounds as antiseptic, hepatitis, dysentery and gastritis.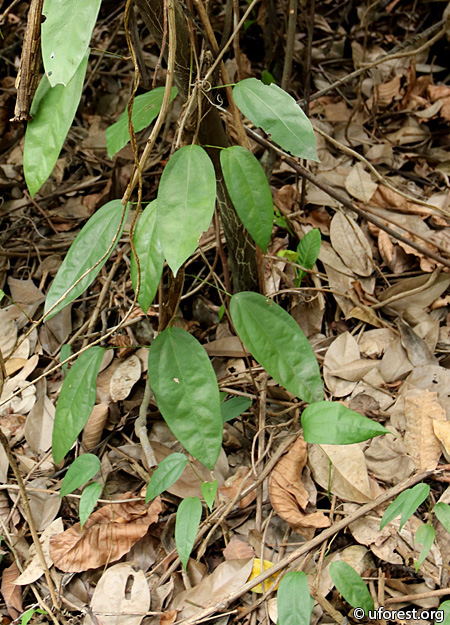 Fibraurea tinctoria in Kent Ridge Park (2020).
Ripe clusters of fruits.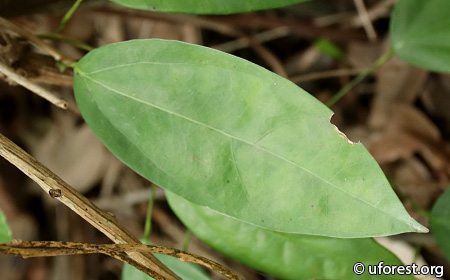 Leaf upper surface.
Leaf lower surface.
Long petiole.
References
Globinmed. (2016) Fibraurea tinctoria Lour. Global Information Hub on Integrated Science, Institute of Medical Research, Ministry of Health, Malaysia. http://www.globinmed.com. Accessed on 21-Feb-2020.
Author: Jake
Posted: 2020-02-20 / Modified: 2020-03-05