Etymology
Genus
From the Latin name for the fig (Ficus species)
Species
Pear (apio) fruit (carpa); referring to the pear-shaped fruit
Family
Moraceae
Synonyms
Ficus apiocarpa var. villosa Corner, Ficus tetangis Miq.
Common Names
Pear-shaped Fig
Status
Native: Endangered
Form
Woody Climber
Native Distribution
Thailand, Sumatra, Peninsular Malaysia, Singapore, north Borneo
Diagnostics:
Ficus apiocarpa is a woody climber that also commonly scrambles along the forest floor. The leaves can grow to about 20cm, with some slight variation in shape (being elliptic, subobovate, or subovate), and having a small drip-tip.
Interesting Facts:
Ng et al. (2005) recorded their presence in the Botanic Gardens Jungle and the Central Catchment Nature Reserve. However, I have observed widespread growth of them in a small patch of young secondary forest (abandoned plantation) next to Dover MRT station; unusual due to its uncommon status.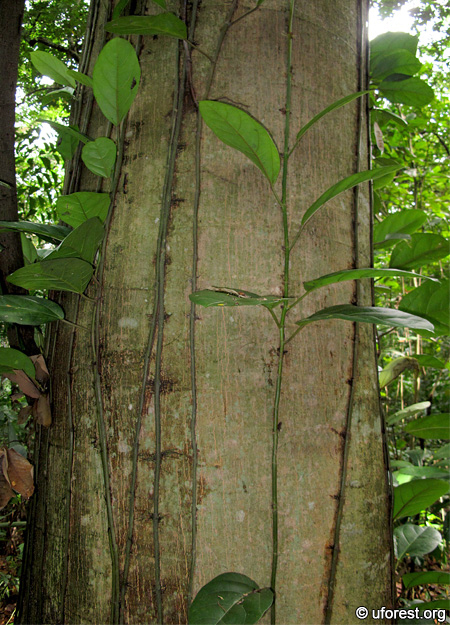 Climbing habit of the Pear-shaped Fig in a young secondary forest.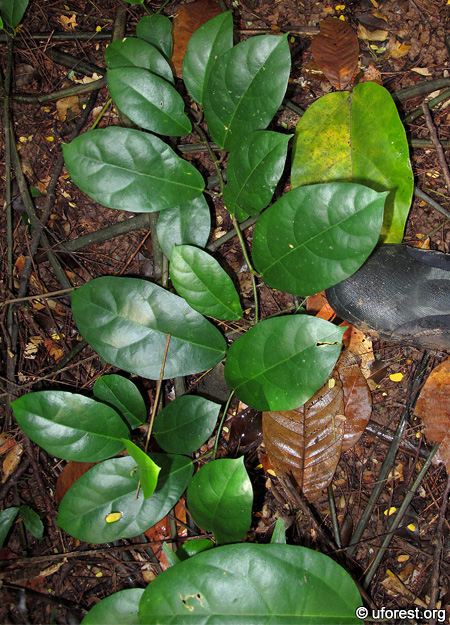 The fig also scrambles along the forest floor.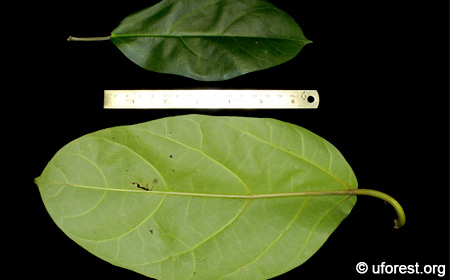 Variable size and shape of the leaves. Elliptic (top) subobovate (below).
Close-up of the netted venation.
The woody stem.
The pear-shaped figs.
References
Ng BC. A Ng, B Lee, AL Chuah, SG Goh, JTK Lai, GC Tan & V D'Rozario. (2005) A Guide to the Fabulous Figs of Singapore. Singapore Science Centre, Singapore. 152 pp.
Author: Jake
Posted: 2013-12-14 / Modified: 2017-12-25