Etymology
Genus
From the Latin name for the fig (Ficus species)
Species
From the word Banji (in Sanskrit), which means Banyan
Family
Moraceae
Synonyms
-
Common Names
Weeping Fig, Waringin, Beringini
Status
Undetermined
Form
Shrub, tree, or strangler
Native Distribution
India to Solomon Islands
Diagnostics:
Ficus benjamina is a strangling fig very common in urban areas. The key diagnostics are its droopy form, and leave shape (with slight wavy margins and prominent drip tips). It is often confused with Ficus microcarpa, but can be differentiated from the leaf shape, having less aerial roots, and droopy habit.
Interesting Facts:
As with Ficus microcarpa, there are also many majestic large Weeping Figs around the island. Some include one at MacRitchie Reservoir visitor centre and another at Bukit Timah Nature Reserve summit.
The form of the Weeping Fig in Bidadari Cemetery.
A large specimen at Bukit Brown Cemetery.
Note the leaf form which is key in identification.
A young specimen strangling a mango tree.
Ripening figs.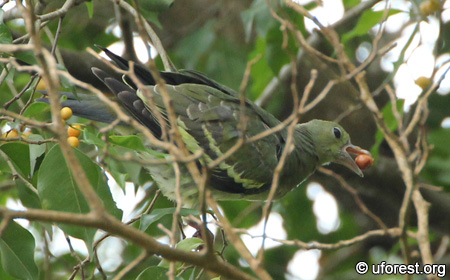 Pink-necked Green Pigeon feeding on the fig.
References
-
Author: Jake
Posted: 2013-03-08 / Modified: 2019-08-27