Etymology
Genus
Afte Dr John Hope, a Scottish botanist
Species
Fragrant; probably referring to the flower scent
Family
Dipterocarpaceae
Synonyms
-
Common Names
Cengal Pasir, Cengal Kampong
Status
Exotic: Cultivated Only
Form
Tree
Native Distribution
Myanmar, Thailand, Indochina, Peninsular Malaysia, and the Andaman Islands
Diagnostics:
This tree has a pyramidal form with a very straight trunk. It sometimes bears drooping secondary branches. The chief diagnostic are the domatia (swollen pores) located at the lower half portion of the leaf's underside; specifically at the intersection of the primary and secondary veins (Symington, 2007).

Interesting Facts:
This is appears to be the only Diperocarp species that is planted in sustantial quantity within Singapore. There are more than 7,000 Hopea odorata along roadsides as of 2009 (Tan et al., 2009). However, as this is a fairly new species introduced, all of them are still young. The best place to see it at its full majestic height and girth is in Ho Chi Minh City, Vietnam. It is planted along the streetscapes and in parks throughout the city together with another dipterocarp (Dipterocarpus alatus) .
In its natural habitat, Cengal Pasir flowers and fruits only once every 2-3 years. The fruit, like most members within the family, bears wings, allowing it to spin like a helicopter to aid in dispersal.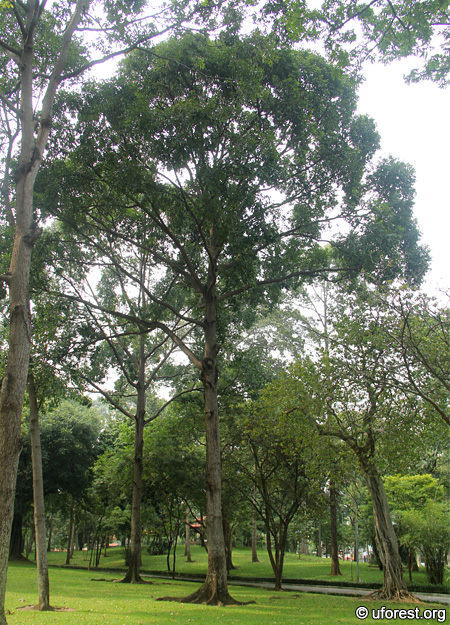 A mature Cengal Pasir in Ho Chi Minh City.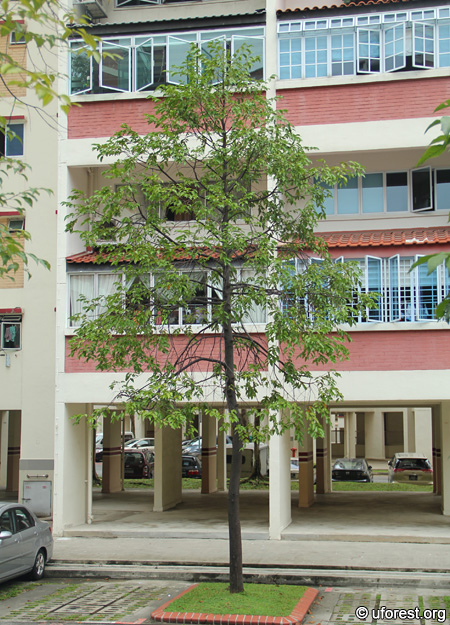 A young Hopea odorata, with droopy secondary branches.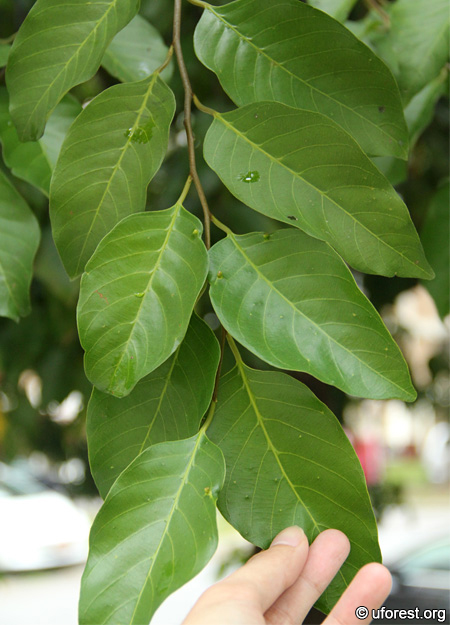 Leaves of the Cengal Pasir.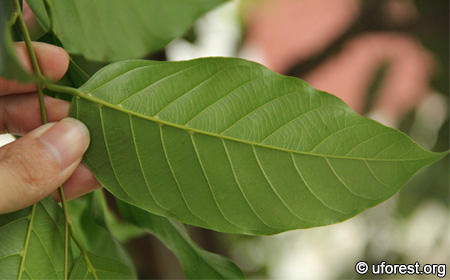 Domatia at the lower half of leaf.
Two-winged fruit.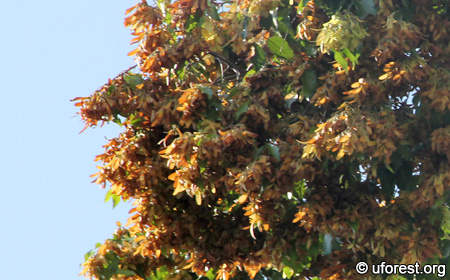 Mass fruiting on a tree in Ho Chi Minh City.
References
Symington CF. (2007) Foresters' Manual of Dipterocarps. Forest Research Institute Malaysia, Malaysian Nature Society, Kulau Lumpur. 519 pp.
Tan PY, B Yeo, WX Yip & HS Lua. (2009) Carbon Storage and Sequestration by Urban Trees in Singapore. Centre for Urban Greenery and Ecology, National Parks Board, Singapore. 14 pp.
Author: Jake
Posted: 2013-01-20 / Modified: 2015-01-11