Etymology
Genus
Imperial, reference to plant unknown
Species
Cylinder-like, likely in reference to the cylindrical inflorescence spike
Family
Poaceae
Synonyms
Saccharum cylindricum (L.) Lam.
Common Names
Lalang
Status
Undetermined
Form
Herb
Native Distribution
Africa, Asia, Australia, Southern Europe
Diagnostics:
Imperata cylindrical is a common weed in unmanaged grass and scrublands. It is very prominent with its long blades that can extend up to a person's height, and especially easy to identify from its fluffy white-haired fruits borne from the inflorescence spike. The leaf blades are lined with recurved spikes along the margins and mid-vein, and can cause a nasty rash bashing through a lalang field.
Interesting Facts:
The Lalang is a very noxious weed, so much so that it is in the list of 100 of the world's worst invasive alien list (Lowe et al., 2004). The rhizomes can survive fire and immediately start new growth to outcompete other species (Duistermaat, 2005).
It was very wide-spread in the 1800s where lalang fields sprouted in abandoned plantations (Chuang, 1973). It was said that these fields were so infested with tigers that coolies were killed often by it. An old newspaper article also recorded a harrowing effort of a hunting party which drove a tiger out into a lush and tall lalang field before ambushing and killing it with a "500 bore Winchester" cartridge (The Singapore Free Press, 1894).

A cluster of lalang with their white hairy fruits borne on the flowering stalks.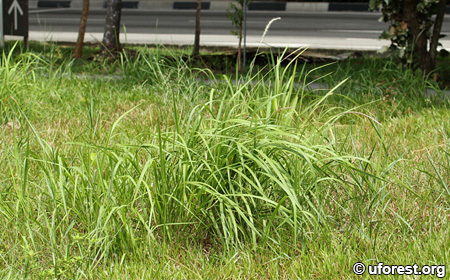 Another one, with longer leaf blades.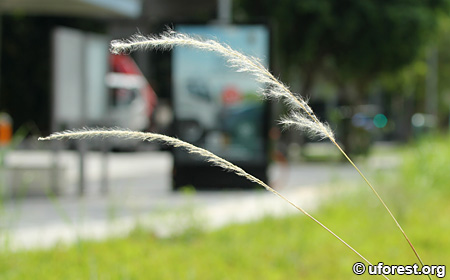 It is very easy to identify from the fluffy white clump of fruits bore on the inflorescence stalk.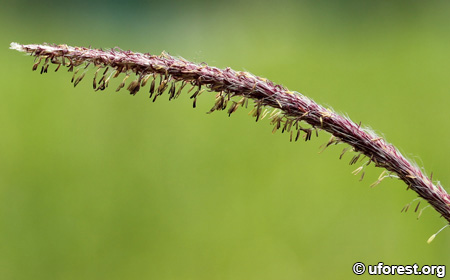 Inflorescence. The anthers are yellowish while the stamens are purplish.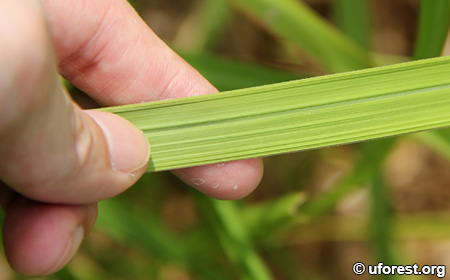 Leaf blade, the mid-vein is not really at the mid-section.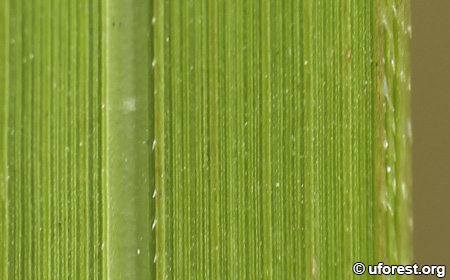 Close-up of leaf blade. Note the recurved spines on the mid-vein & edges.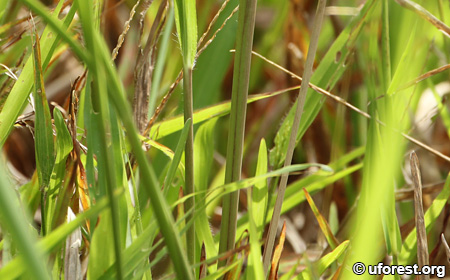 Stem.
Tiny fruits with white hairs for wind dispersal.
References
Chuang SH. (1973) Animal Life & Nature in Singapore. Singapore University Press, Singapore. 302 pp.
Duistermaat H. (2005) Field guide to the grasses of Singapore (excluding the bamboos). Supplement of The Gardens' Bulletin Singapore, 57: 177.

Lowe S, Browne M, Boudjelas S & M De Poorter. (2004) 100 of the World's Worst Invasive Alien Species A selection from the Global Invasive Species Database. The Invasive Species Specialist Group, World Conservation Union. 12 pp.
The Singapore Free Press (1894) Another Tiger to Mr Maw. The Singapore Free Press, Singapore. 5-Jan-1894.

Author: Jake
Posted: 2018-11-05 / Modified: 2018-11-06