Etymology
Genus
Possibly Indian Roucheria (previous genus name)
Species
After Dr. William Griffith, 19th century botanist and curator of the Botanic Garden in Calcutta
Family
Linaceae
Synonyms
Roucheria griffithiana Planch.
Common Names
Akar Ipoh Putih
Status
Native: Common
Form
Climber
Native Distribution
India to Borneo
Diagnostics:
A common woody climber in our old secondary forests, Indorouchera griffithiana can be easily identified from the leaves which are elliptic to obovate with a long drip tip and minute serrated margins, and the distinct climbing hooks.
Interesting Facts:
From Flora Malesiana (n.d.), the climber is said to contain saponin-like chemicals and are used to make arrow poison. In Sarawak, the wood is also used for making parang handles.
A climbing branch of Indorouchera griffithiana.
Leaf underside.
Leaf and hook.
Thicken hook which has grasped on another branch to climb.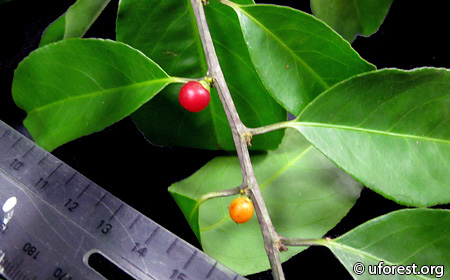 Fruits.
References
Flora Malesiana (n.d.) Indorouchera griffithiana. http://portal.cybertaxonomy.org/flora-malesiana. Accessed on 17-Nov-2019.
Author: Jake
Posted: 2019-11-08 / Modified: 2019-11-17