Etymology
Genus
After James Justice, a Scottish botanist
Species
Lying on the ground; referring to its prostrate habit
Family
Acanthaceae
Synonyms
-
Common Names
Water Willow
Status
Undetermined
Form
Herb
Native Distribution
Indian subcontinent, Indochina, China, Taiwan, Japan, Korea, and Malesia
Diagnostics:
A very small herb common on lawns and cracks from concrete paths. The leaves are oppositely arrangely, elliptic, and up to only about 2cm long. The inflorescence spikes and on it, the white-pink flowers are the most distinctive.

Interesting Facts:
The Water Willow is used as a Chinese folk remedy of pharyngo-laryngeal swelling and cancer (Asan et al., 1996).
The Water Willow prostrate habit. Notice the flowers and inflorescence spikes.
The flower on the inflorescence spike, about 4mm wide.
The Inflorescence spike.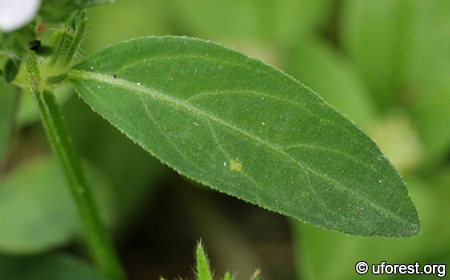 Notice the tiny hairs lining the leaf margin.
References
ASAN J, K Chiba, M Tada & T Yoshii. (1996) Antiviral activity of lignans and their glycosides from Justicia procumbens. Phytochemistry, 42: 713-717.
Author: Jake
Posted: 2013-04-26 / Modified: 2015-01-11