Diagnostics:
Khaya senegalensis is a large tree capable growing up to 30m with girth of up to 2m. Most distinctive are their compound leaves which may or may not have a terminal leaflet. Each leaflet are oblong or elliptic in shape. The leaves grow in clusters hence resulting in a bushy foliage.
Interesting Facts:
The Senegal Mahogany has been introduced to Singapore in the 1970s (NParks, 2001), and popularly cultivated as a roadside tree since then, being consistently one of the top 10 most commonly cultivated tree in Singapore (The Straits Times, 1988; Auger, 2013). The wood is highly valued for the figurative grain and reddish mahogany brown colour (NParks, 2001).
Lush foliage of a Senegal Mahogany at Hougang Bus Interchange.
Characteristic compound leaves.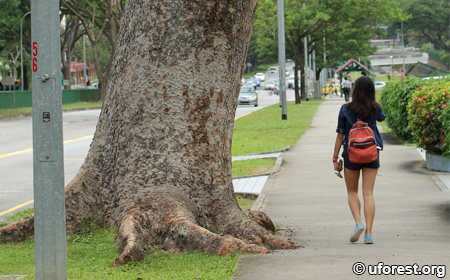 Huge trunk with a pedestrian beside as a scale.
References
Auger T. (2013) Living in a Garden: The Greening of Singapore. National Parks Board, Singapore. 200 pp.
NParks. (2001) Trees of Our Garden City: A Guide to the Common Trees of Singapore. 1st Edition. National Parks Board, Singapore.
The Straits Times. (1988) The top fifteen trees. The Straits Times, Singapore. 19-Oct-1988.
Author: Jake
Posted: 2018-11-20 / Modified: 2018-11-21