Etymology
Genus
After Miguel Lopez de Legazpi, a Spanish conquistador of the East Indies and Pacific Islands
Species
Resembling plants in the genus Polygonum
Family
Linderniaceae
Synonyms
Torenia polygonoides Benth.
Common Names
Malayan Brighteye
Status
Undetermined
Form
Herb
Native Distribution
Myanmar, Malaysia, Indonesia, Philippines, and Oceania
Diagnostics:
This is a very common creeping herb of lawns. The oppositely arranged leaves are triangular with rounded edges, and serrated along the margins. It flowers frequently, with a lower white lip of three lobes, and upper lip of red. The centre is tinged with yellow.

Interesting Facts:
Henderson (1959) mentioned that the flowers can be entirely white occasionally.
A lush coverage of Malayan Brighteye on a piece of lawn.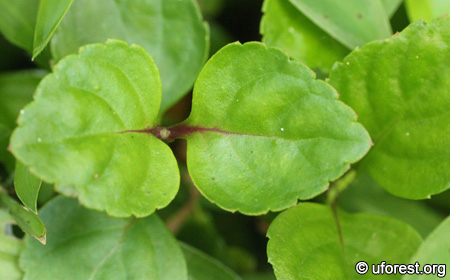 Leaves have serrated edges.
Flower, with red upper lip, white lower lip and a yellow centre.
References
Henderson MR. (1959) Malayan Wild Flowers: Dicotyledons. Malayan Nature Society, Kulau Lumpar, Malaysia. 478 pp.
Author: Jake
Posted: 2013-03-19 / Modified: 2015-01-11