Etymology
Genus
White; referring to the flower colour
Species
White head; referring to the flower structure and colour
Family
Fabaceae
Synonyms
Mimosa leucocephala Lam., Mimosa leucophala Lam., Acacia leucocephala (Lam.) Link
Common Names
Wild Tamarind, Lead Tree, Lamtoro, Petai Jawa
Status
Exotic: Naturalised
Form
Shrub or small tree
Native Distribution
Tropical America
Diagnostics:
Leucaena leucocephala is a very common shrub or tree up to 10m. Individuals are often multi-stemmed and form dense thickets in scrublands because of the vigorous growth rate. The bipinnate leaves are mildly droopy, flower clusters are creamy white, and fruit pods are large and flatten. An easy way to identify the plant from afar is to watch out for its gregarious brown legumes.
Interesting Facts:
The Wild Tamarind is listed as one of the 100 world's worst invasive species (Lowe et al., 2004). It has been spread globally by the Spanish 400 years ago (FACT Net, 1997) and presently, it can be found in many tropical and sub-tropical countries; even up to Japan (PIER, 1999). In Singapore, it has been recorded about a century ago in 1888 (Nghiem, 2010).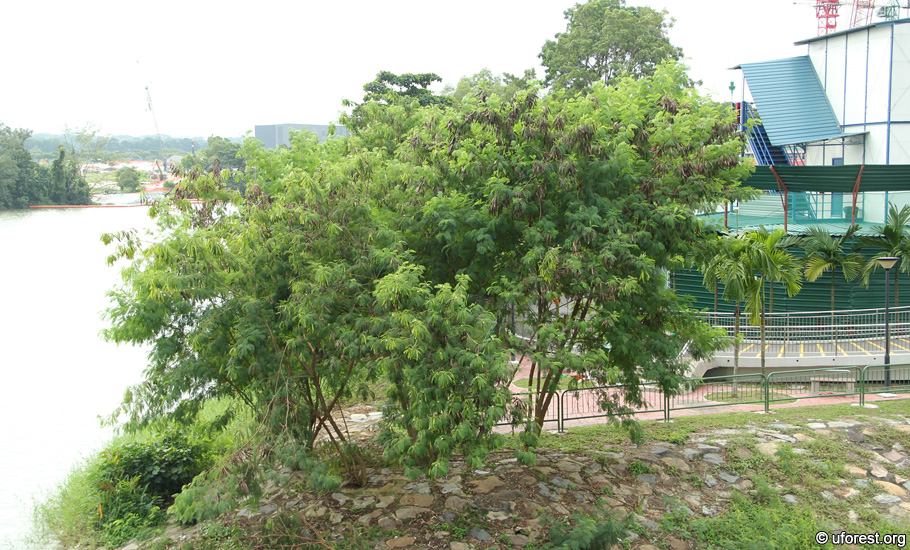 These trees stand about 8 m tall.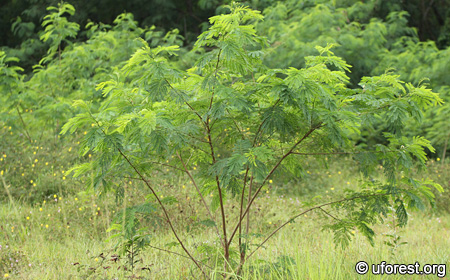 While young, these Wild Tamarind are already reproductive. Pure stands of the species form a thicket in the background.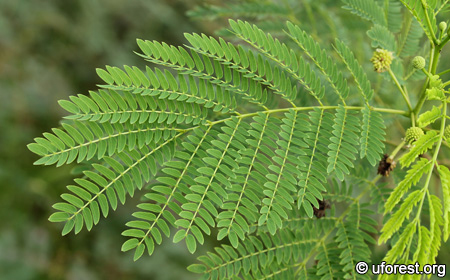 Leaves are bipinnately compound.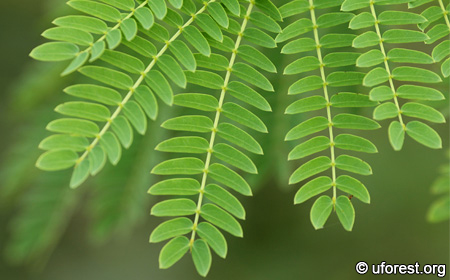 Leaflets are asymmetrical.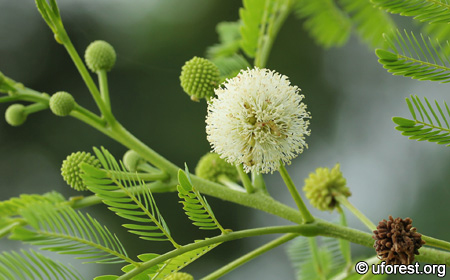 Flowering occurs at the branch terminals.
One way to identify the plant is to look out for his long brown legumes.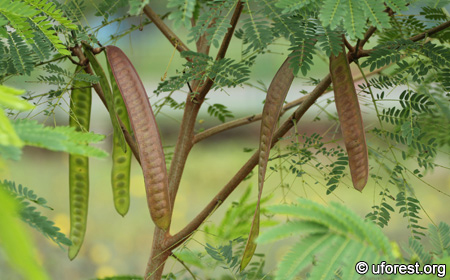 Fruit pods are flatten and compressed around the seeds.
References
FACT Net. (1997) Leucaena leucocephala - a versatile nitrogen fixing tree. Forest, Farm, and Community Tree Network (FACT Net), Winrock International, USA. http://www.winrock.org. Accessed on 2-Jan-2013.
Lowe S, Browne M, Boudjelas S & M De Poorter. (2004) 100 of the World's Worst Invasive Alien Species A selection from the Global Invasive Species Database. The Invasive Species Specialist Group, World Conservation Union. 12 pp.
Nghiem TPL. (2010) The Ecology of Invasive Tree Species in Singapore. Masters Thesis, National University of Singapore, Singapore. 91 pp.
PIER. (1999) Leucaena leucocephala. Pacific Island Ecosystem at Risk (PIER), Institute of Pacific Islands Forestry. http://www.hear.org/pier. Accessed on 1-Jan-2013
Author: Jake
Posted: 2013-01-02 / Modified: 2017-12-25