Etymology
Genus
Woolly; referring to the seed capsules of some species in this genus
Species
After panicles; arrangement of the inflorescences
Family
Euphorbiaceae
Synonyms
Croton paniculatus Lam.
Common Names
Turn-in-the-Wind, Balek Angin
Status
Native: Common
Form
Tree
Native Distribution
South China to Malesia and northern Australia
Diagnostics:
Mallotus paniculatus can be easily identified from its leaves. They are ovate with pointed tips and white undersides, and long petioles. The leaf margins that are simple to 3-lobed. The base of the leaves has a paired of glands.
Interesting Facts:
The Turn-in-the-Wind tree is a very common tree at secondary forest edges. The paired glands on the leaf is known to secrete sugary fluid which attract ants; a possible mutualistic relationship (with the ant protecting the plant against herbivorus insects in return).
A lone Turn-in-the-Wind tree in Bidadari Cemetery.
Fruits are small, trilobed, and covered with bristles.
Leaves with spiral arrangement.
Leaf upper surface.
Bronze/white underside.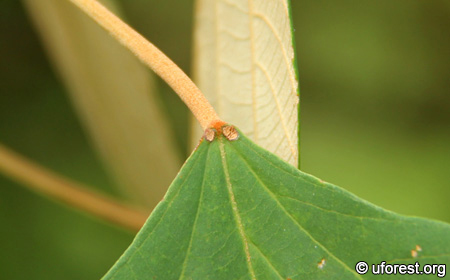 Paired glands.
References
-
Author: Jake
Posted: 2014-09-14 / Modified: 2017-12-25