Etymology
Genus
Small (Micro) flower spike (stachys), referring to the male inflorescence
Species
Low; referring to the plant's short form
Family
Euphorbiaceae
Synonyms
Cnemidostachys chamaelaea (L.) Spreng., Tragia chamaelea L., Sebastiania chamaelea (L.) Müll.Arg.
Common Names
Creeping Sebastiania
Status
Undetermined
Form
Herb
Native Distribution
Central Africa, China, India, Sri Lanka, Indochina, Malesia
Diagnostics:
Microstachys chamaelea is an erect herb normally not more than 30cm tall. The alternately arranged leaves are lanceolate and have very fine serrated margins. The diagnostic feature is the tri-lobed fruit with (often) reddish spines.
Interesting Facts:
In Africa, decoctions of the stems are used to relieve teething pain (as a bath), vertigo (applied on head), and taken with butter as a form of tonic (Schmelzer, 2007).

Form of the Creeping Sebastiania
The male flowers arranged on a spike (left) and the fruit (right)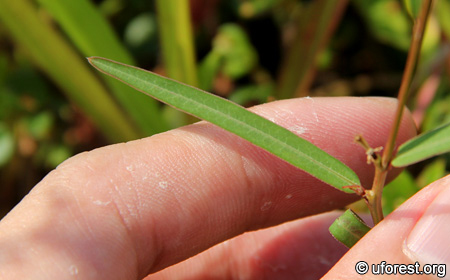 The leaves are lanceolate.
The leaf margin is finely serrated.
References
Schmelzer GH. (2007) Microstachys chamaelea (L.) Müll.Arg. In: Schmelzer GH & A Gurib-Fakim. (Eds.) PROTA (Plant Resources of Tropical Africa / Medicinal plants / Plantes médicinales. Wageningen, Netherlands. http://www.prota4u.org. Accessed 9-Jun-2013.
Author: Jake
Posted: 2013-06-09 / Modified: 2017-12-25