Etymology
Genus
To bite, reference to the seeds which look like they are bitten
Species
After Cochinchina, a region which is now part of south Vietnam
Family
Cucurbitaceae
Synonyms
Muricia cochinchinensis Lour.
Common Names
Spiny Bitter Gourd, Gấc
Status
Exotic: Cultivated Only
Form
Climber
Native Distribution
Southeast Asia
Diagnostics:
A climber that only grows in cultivation here, it has trilobed leaves, though leaf shape is said to be highly variable. The round fruit is distinct, bring covered in tiny spines and ripen from green to yellow and then orange.

Interesting Facts:
The fruits are consumed for dietary and medicinal uses, especially by the Vietnamese. There, the aril of the ripe fruit is widely used as a rice colorant due to the extraordinarily rich concentration of lycopene (Vuong, et al., 2006). It also contains contains high levels of beta-carotene and alpha-tocopherol.
The Spiny Bitter Gourd, in the Edible Pavilion Garden, 2020.
Trilobed leaf.
Tendrils.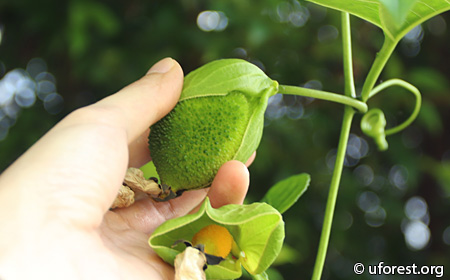 Developing fruit.
Fruits.
References
Vuong LT, Franke AA, Custer LJ, Murphy SP (2006) Momordica cochinchinensis Spreng. (gac) fruit carotenoids reevaluated. Journal of Food Composition and Analysis 19: 664-668
Author: Jake
Posted: 2020-01-26