Etymology
Genus
Indian (indicus) Mulberry (Morus); common name to the species Morinda citrifolia
Species
Elliiptic; referring to the shape of the leaf
Family
Rubiaceae
Synonyms
M. citrifolia var. elliptica Hook. f.
Common Names
Black Morinda, Lalang Tree
Status
Undetermined
Form
Tree
Native Distribution
Unknown
Diagnostics:
I have only seen this tree in the Bidadari Cemetery thus far. The stem is narrowly ridged and fissured, and the straggly branches are light brown. The elliptic leaves are often wavy at the margins. The best way to identify is through its fruits, which is much smaller then Morinda citrifolia, and ripens to green-black.
Interesting Facts:
Curiously, Corner (1997) stated that the Black Morinda is not found wild in Singapore, though many obviously natural ones are seen in the Cemetery. Its tough bark is able to withstand lalang-fires, hence its second common name as the Lalang Tree (Corner, 1997).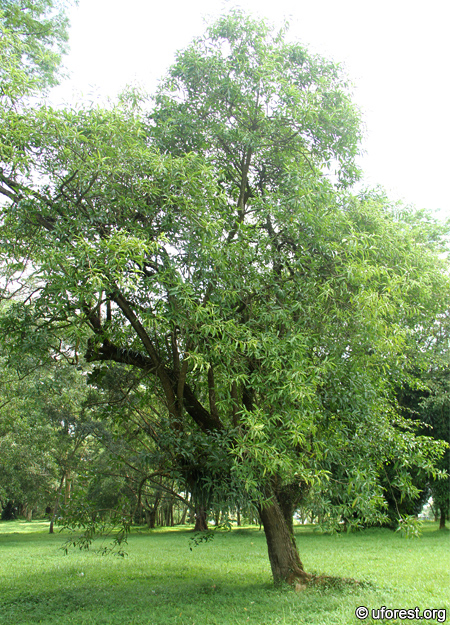 The form of the Black Morinda in Bidadari Cemetery.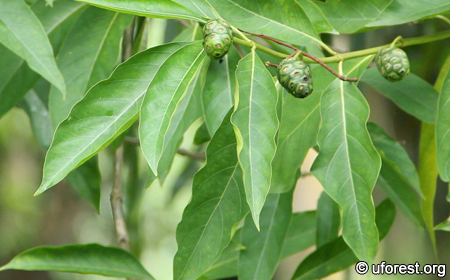 The leaves often have wavy margins.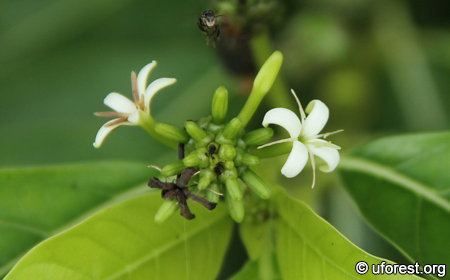 Flowers grow on clumps.
The fruits, and their stalks.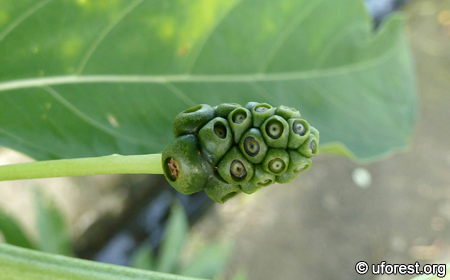 The lumpy right, greenish and sometimes black.
A useful character is its light coloured stem and branches.
References
Corner EJH. (1997) Wayside Trees of Malaya. Volume 2. 4th edition. The Malaysian Nature Society, Kuala Lumpur. 297 pp.
Author: Jake
Posted: 2013-05-10 / Modified: 2017-12-25