Etymology
Genus
From Greek word Muron; an essential oil distilled from the plant
Species
Fragrant; the leaves give off a fragrant smell when crushed
Family
Myristicaceae
Synonyms
Myristica aromatica Lam.
Common Names
Nutmeg
Status
Exotic: Cultivated Only
Form
Tree
Native Distribution
Moluccas Islands
Diagnostics:
A short tree of about 7m (Wee, 2003), the Nutmeg has a single straight trunk with branches radiating in tiers (typical of members within this family). The elliptic leaves are glossy and emit a fragrance when crushed.

Interesting Facts:
Myristica fragrans was introduced to Singapore by Sir Thomas Stamford Raffles in 1802, and were planted at the foot of Government Hill (now Fort Canning Hill) to experiment its cultivation for spice trade (Wheatley, 1954). A craze for nutmeg soon started, and by 1848, there were about 56,000 trees in 24 plantations covering an area of 480 ha (Ridley, 1897; Wikkramatileke, 1965). However, in 1859, a disease from a beetle spread from Malaysia to Singapore and wiped out most of the trees (Burkill, 1966). Presently, Nutmeg trees can only be found sparingly in several parks, including the Singapore Botanic Gardens.

The fleshly fruit wall of the is the commercial nutmeg sold as a sweetmeat (Rao, 1989). The red aril which envelops the seed is known as the mace and the black seed, also known as the nutmeg are both used as a spice.

The small, pale yellow, and globular flowers are unisexual. A study of the floral biology of Myristica fragrans in India found that it is visited by a species of beetle, Formicomus braminus (Armstrong & Drummond, 1986). Pollination occurs when the beetles collected the pollen from the male flower and mistakenly enter a female one thinking that it is a male one, thus unwittingly depositing the pollen.

The form of the Nutmeg tree.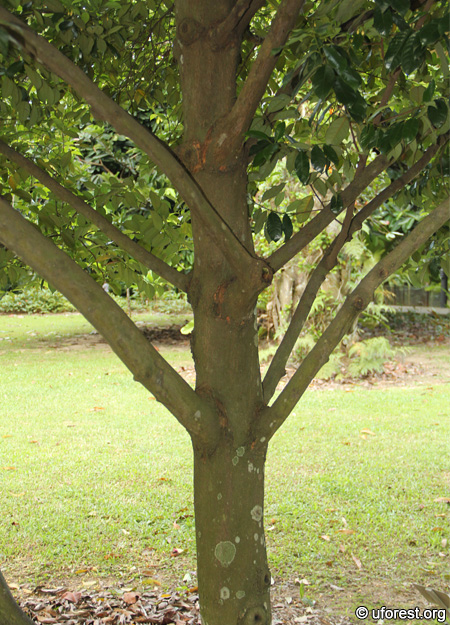 Primary branching radiates at tiers of about 45°.
Leaves are shiny with a distinct tip.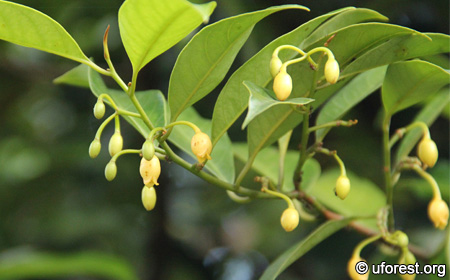 Clusters of male flowers.
The sepal is peeled off to show the female flower part.
The male flower showing the stamens fused into a column.
The fruit of the nutmeg, splitting slightly to reveal the mace.
The reddish mace, which hug the seed.
References
Armstrong JE & BA Drummond. (1986) Flora biology of Myristica fragrans Houtt. (Myristicaceae), the Nutmeg of Commerce. Biotropica, 18(1): 32-38.
Burkill IH. (1966) A Dictionary of the Economic Products of the Malay Peninsula. Volume I & II. Publication Unit, Ministry of Agriculture, Kuala Lumpur. 2444 pp.
Rao, AN & WC Wee (1989) Singapore Trees. Singapore Institute of Biology, Singapore. 357 pp.
Ridley HN. (1897) Spices. Agricultural Bulletin. 2: 20-40.
Wee YC. (2003) Tropical Trees and Shrubs: A Selection for Urban Planting. Sun Tree Publishing, USA. 392 pp.
Wheatley P. (1954) Land use in the vicinity of singapore in the eighteen-thi
Author: Jake
Posted: 2012-01-11 / Modified: 2018-12-09