Etymology
Genus
From Greek, osme (scent) & xylon (wood)
Species
Linear; likely referring to the leaves
Family
Araliaceae
Synonyms
Boerlagiodendron lineare Merr.
Common Names
Green Aralia, Miagos Bush
Status
Exotic: Cultivated Only
Form
Shrub
Native Distribution
Philippines
Diagnostics:
This is a popular shrub cultivated as hedges. It can be easily identified by the leaves which split into linear 4-7 lobes and arranged spirally around the branches. They flower at the tip of the branch, with the fruits ripening from white to purple.

Interesting Facts:
The Green Aralia is found to have a high nitrate removal of 66%, making it a suitable candidate for phytoremediation (Hunt, 2014).
I have observed the Asian Glossary Starling feeding on the fruits, though it does not appear to have been spread out of cultivation yet.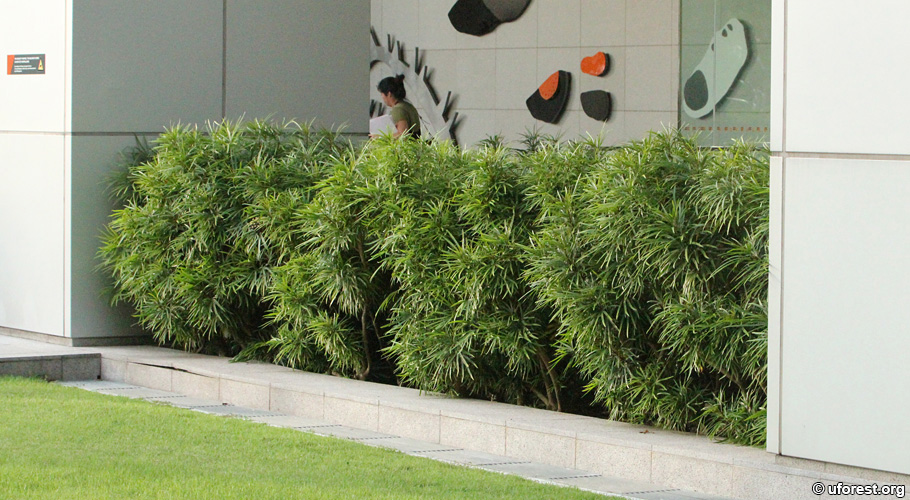 Cultivated shrub of Green Aralia
Leaves which split into linear strands.
White unripe fruits to purple ripe ones.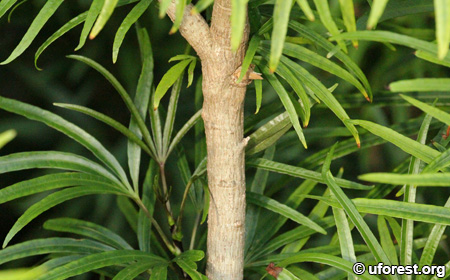 Stem.
References
Hunt WF, Lord B, Loh B, Sia A. (2014) Selection of Plants that Demonstrated Nitrate Removal Characteristics. In: Plant Selection for Bioretention Systems and Stormwater Treatment Practices. Springer, Singapore. 57 pp.
Author: Jake
Posted: 2018-11-16