Etymology
Genus
Latin name for a grass Setaria italica.
Species
Creeping; referring to its habit
Family
Poaceae
Synonyms
Panicum arenarium Brot., Panicum chromatostigma Pilg.
Common Names
Torpedo Grass, Creeping Panic Grass, Kerunong Padi
Status
Native: Common
Form
Herb
Native Distribution
Africa, Asia, and Europe
Diagnostics:
Panicum repens is a dominant grass in scrublands. It is quite easy to recognise from its evenly arranged leaves along the straight upright stems. The leaf shealth seldom overlap each other and the upper surface of the leaf blade can be very hairy. The inflorescence is branches out twice and bears whitish spikelets.
Interesting Facts:
The Torpedo Grass is a effective pioneer sand-binder as well as a good feed for cattle as it has high nutritional value (Gilliland, 1971).

Habitat of the Torpedo Grass in a scrubland.
Upright stem bearing leaves aligned 45° upwards.
The leaf shealths are mostly non-overlapping.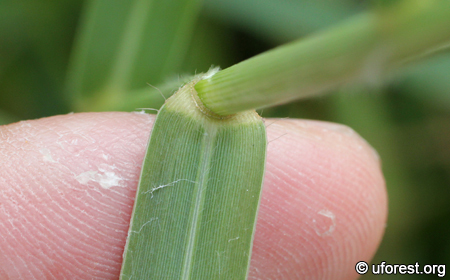 The base of leaf is rounded.
Very fine hairs line the upper leaf surface.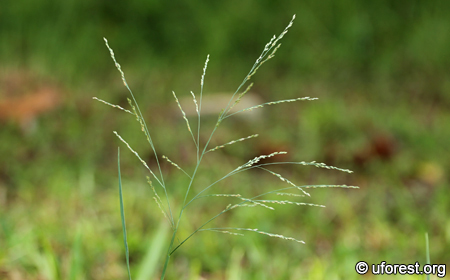 Fully opened inflorescence branches twice.
Close-up of spikelets.
References
Gilliland HB. (1971) A Revised Flora of Malaya. Volume III: Grasses of Malaya. Government Printing Office, Singapore. 319 pp.
Author: Jake
Posted: 2013-06-11 / Modified: 2017-12-25