Etymology
Genus
Passion flower; the flower parts of Passiflora are symbolic to the events of the Passion of Jesus Christ
Species
Cork bark; referring to the older stems which is corky
Family
Passifloraceae
Synonyms
-
Common Names
Corky-stemmed Passion Flower
Status
Exotic: Naturalised
Form
Climber
Native Distribution
Tropical America
Diagnostics:
The leaves come in three main forms: a simple, thin, long blade; with a lobe on either side; or with two lobes. The sight of a climber exhibiting such variation is suffice for identification. If it only shows the simple leaf form, just check the petiole for a pair of circular glands, indicative of the Passiflora family. No Passifloraceae species in the urban flower have a thin narrow leaf.
Interesting Facts:
Passiflora suberosa is a very common climber in urban areas. The green flowers are very small and hardly noticeable, though intricately designed as with all Passiflora flowers. Other countries show some slight variation in its flower colour. The fruits are small and turns from green to black on ripening.
The Corky-stemmed Passion Flower climbing on a fence. Note that some leaves only have one lobing blade.
Simple leaves with no lobes.
Leaf with two lobes.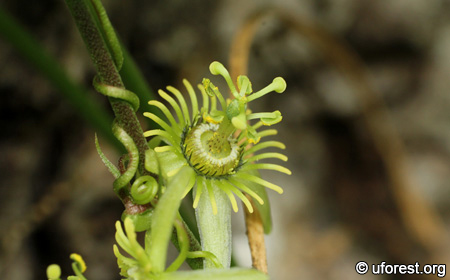 Flower is very tiny (about 1 cm across) and green.
Fruits are green which turn black when ripe. Note the coiling tendrils around.
References
-
Author: Jake
Posted: 2013-02-12 / Modified: 2017-12-25