Etymology
Genus
Shield (pelte), to bear (pherein); referring to the shield-like stigma
Species
Winged fruit
Family
Fabaceae
Synonyms
Inga pterocarpa DC.
Common Names
Yellow Flame, Copper Pod
Status
Native: Critically Endangered
Form
Tree
Native Distribution
Indochina, Peninsular Malaysia to Australia
Diagnostics:
It has bipinnate leaves with leaflets that are tiny and fairly romboid in shape. A very useful character is to note the colour of the bark, which is light grey. Its flowering is quite spectacular and distinctive, since the bright yellow inflorescences will cover the canopy. The young shoots are rusty brown and hairy.

Interesting Facts:
The Yellow Flame was first cultivated around 1938 near the Bukit Panjang village (Wee & Corlett, 1986). As of 2009, its population maintained by the National Parks Board have reached more than 25,000, making it the second most commonly cultivated tree in Singapore (Tan et al., 2009). Despite this fact, it is still considered nationally critically endangered as individuals in the coastal forest where it grows naturally in are not as common.
A cultivated Yellow Flame.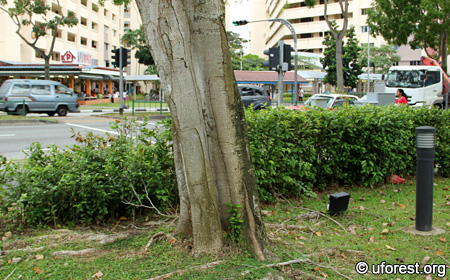 Bark from the trunk right up to the branches is light grey.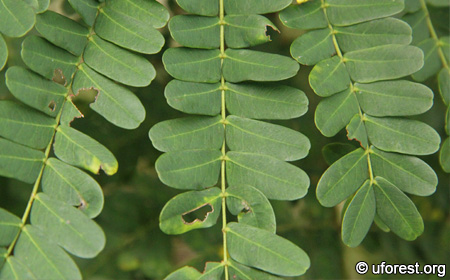 Close-up of leaflets.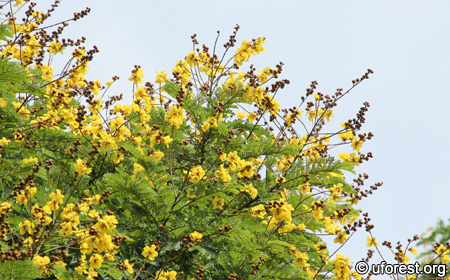 Flowers are bright yellow.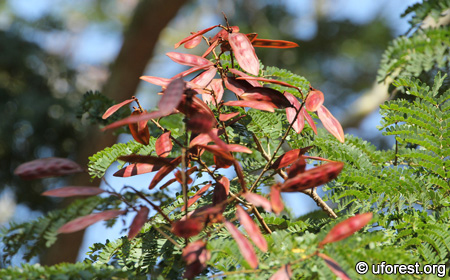 Reddish-brown fruits.
References
Tan PY, B Yeo, WX Yip & HS Lua. (2009) Carbon Storage and Sequestration by Urban Trees in Singapore. Centre for Urban Greenery and Ecology, National Parks Board, Singapore. 14 pp.
Wee YC & R Corlett. (1986) The City and The Forest. Plant Life in Urban Singapore. National University of Singapore Press, Singapore. 186 pp.
Author: Jake
Posted: 2013-01-16 / Modified: 2015-01-11