Etymology
Genus
After Nicholas Claude Fabry de Pieresc, a French botanist
Species
Unknown
Family
Cactaceae
Synonyms
Cactus bleo Kunth, Pereskia panamensis F.A.C. Weber
Common Names
Rose Cactus, Leaf Cactus, Wax Cactus
Status
Exotic: Cultivated Only
Form
Shrub
Native Distribution
Central America
Diagnostics:
This is a common shrub grown in private gardens for their purported medicinal properties. The stem is very spiny, the leaves have wavy margins and arranged spirally. It also flowers frequently, having rosy orange petals. The fruits are most peculiar, being funnel-shaped.

Interesting Facts:
The leaves of the Rose Cactus are eaten as they are believed to have anti-cancerous properties and also a relief from gastric pain (Globinmed, 2010). Cytotoxic chemicals have also been isolated from its leaves (Malek et al., 2009).
The Rose Cactus growing up to 5m in this church compound.
The stem is very spiny.
The leaves are arranged spirally.
The leaf with depressed veins and wavy margins.
The rosy orange flower.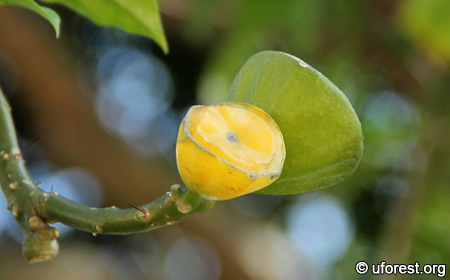 The yellowish fruit has a peculiar funnel shape.
References
Globinmed. (2010) Pereskia bleo (Kunth) DC. Global Information Hub on Integrated Science, Institute of Medical Research, Ministry of Health, Malaysia. http://www.globinmed.com. Accessed on 3-Jun-2013.
Malek SNA, SK Shin, NA Wahab & H Yaacob. (2009) Cytotoxic Components of Pereskia bleo (Kunth) DC. (Cactaceae) Leaves. Molecules, 14: 1713-1724.
Author: Jake
Posted: 2013-06-03 / Modified: 2015-01-11