Etymology
Genus
After Jules Emile Planchon, a 19th century French botanist and director of the Botanical Garden at Montpelier
Species
Obovate; referring to the leaf shape
Family
Sapotaceae
Synonyms
Pouteria obovata (R.Br.) Baehni
Common Names
Sea Gutta, Misi, Yellow Teak
Status
Native: Vulnerable
Form
Tree
Native Distribution
Seychelles, China, Indochina, Malesia, Australia, Micronesia, Papuasia
Diagnostics:
Planchonella obovata is a common tree found at the sandy or rocky coasts, and also a popular roadside tree. Its most unique characteristic are the tiny copper-hairs that covers the underside of the leaves, veins, petioles, and young twigs, though not always. Despite its name, the leaf shape can vary from elliptic to obovate. The secondary veins of the leaves are enclosed near the margins. Being in the Saptoaceae family, milky sap is oozed when the leaves are broken.
Interesting Facts:
Past herbarium records also place the Sea Gutta's habitat in inland dry forests of Bukit Timah Nature Reserve and Nee Soon Swamp Forest (Singapore Herbarium Online, 2012; Wong et al., 2013).
It is traditionally used for pain relief: where the leaf paste or decoction is applied or drunk respectively to relief headaches; the decoction is also drunk for chest pains; and the poultice of crushed leaves is applied to treat backaches (FloraFaunaWeb, n.d.).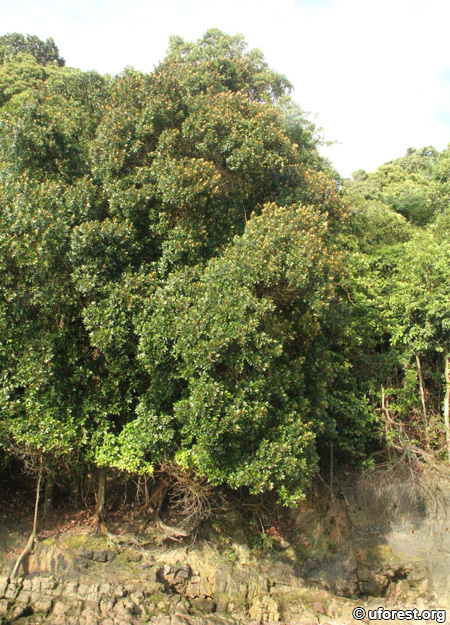 A natural stand at a rocky cliff in Sentosa.
A cultivated roadside tree.
Spiral leaf arrangement, note the coppery branch, petiole and leaf veins.
Bronze underside of leaves.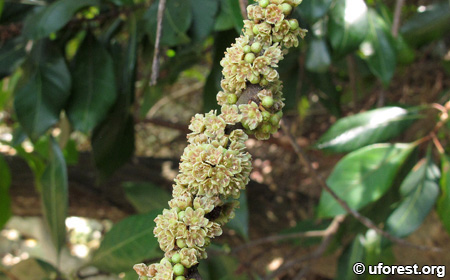 Flowers.
References
Singapore Herbarium Online. (2012) Singapore Herbarium Online. Department of Plant Sciences, University of Oxford. http://herbaria.plants.ox.ac.uk/bol/sing. Accessed on 29-Nov-2018.
Wong HF, Tan SY, Koh CY, Siow MHJ, Li T, Heyzer A, Ang AHF, Mirza Rifi Qi Bin Ismail, Srivathsan A & TAN HTW (2013) Checklist of the Plant Species of Nee Soon Swamp Forest, Singapore: Bryophytes to Angiosperms National Parks Board and Raffles Museum of Biodiversity Research, National University of Singapore, Singapore. 521 pp.

FloraFaunaWeb. (n.d.) Planchonella obovata (R. Br.) Pierre. National Parks Board, Singapore. https://florafaunaweb.nparks.gov.sg. Accessed on 29-Nov-2018.
Author: Jake
Posted: 2018-12-01