Diagnostics:
Plocoglottis javanica is a herbaeous orchid with single leaves extending from the ground. The leaves are elliptic with parallel veins, attached to slender pseudobulbs about 10cm long and 1cm thick. The inflorescence are borne on a long stalk extended. It bears numerous yellow flowers which are painted with scattered red dots. The side petals are thin and curved.
Interesting Facts:
The Mousetrap Orchid is so known as the flower lip moves upwards when touched. This is thought to unbalance or trap the insect pollinator temporary to increase the chances of pollen removal (Comber, 1990). Recent records of this species is only in the Nee Soon Swamp Forest (Ang et al., 2011).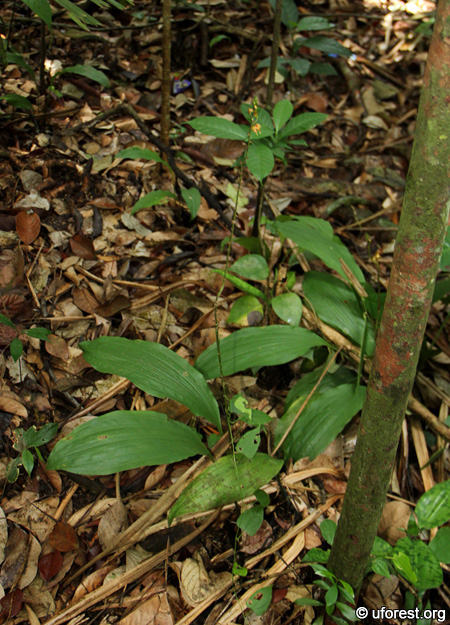 Mousetrap Orchid with inflorescence stalk in Nee Soon Swamp Forest.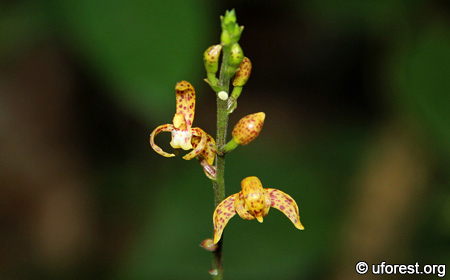 Inflorescence with flower buds.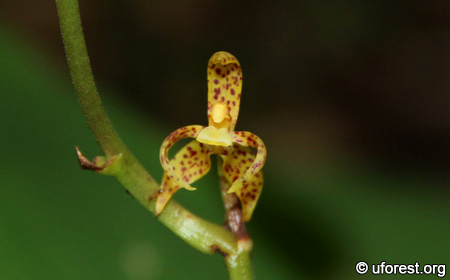 Flower with scattered red dots on the petals.
References
Ang WF, AFSL Lok, CK Yeo, BYQ Ng & HTW Tan, (2011) The status and distribution in Singapore of Plocoglottis javanica Blume (Orchidaceae). Nature in Singapore, 4: 73-77.
Comber, J. B., 1990. Orchids of Java. Royal Botanic Gardens, Kew, England. 407 pp.
Author: Jake
Posted: 2013-10-25 / Modified: 2017-12-25