Etymology
Genus
After Abbé Noel-Antoine Pluche, a French naturalist
Species
Of Indian origin
Family
Asteraceae
Synonyms
Baccharis indica L.
Common Names
Indian Camphorweed
Status
Native: Common
Form
Shrub
Native Distribution
India to South China, down to Indochina, Malesia, and Australia
Diagnostics:
Pluchea indica is a shrub of about 1.5m. It can be found in coastal areas and scrublands, though I have seldom seen them around despite having a common status. It can be easily identified from its serrated and thick leaves and spiral arrangement.
Interesting Facts:
The Indian Comphorweed is consumed as a health promoting tea in Thailand. Studies have shown it to have anti-inflammatory, pain relief, anti-tulerculosis, free radical scavenging properties (Suriyaphan, 2014).

Form of the Indian Camphorweed.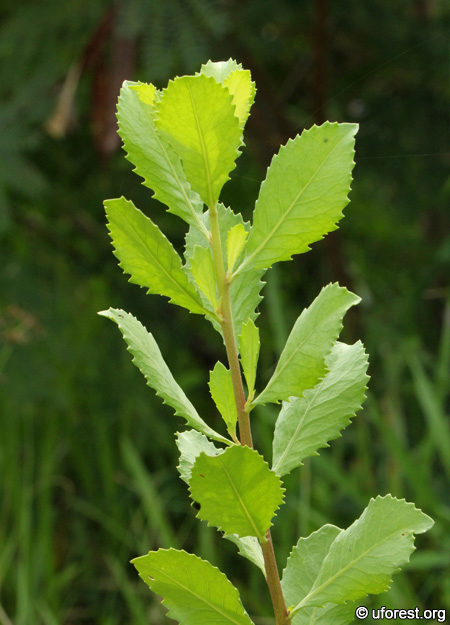 Leaf arrangement.
Serrated, thick, and hairless leaves.
Pinkish inflorescences.
References
Suriyaphan O. (2014) Nutrition, Health Benefits and Applications of Pluchea indica (L.) Less Leaves. Mahidol University Journal of Pharmaceutical Sciences, 41: 1-10.
Author: Jake
Posted: 2015-03-14 / Modified: 2017-12-25