Etymology
Genus
Cup; referring to the cup-shaped lip of the flower
Species
Loosely spreading; perhaps referring to the roots
Family
Orchidaceae
Synonyms
Pomatocalpa latifolium (Lindl.) J.J.Sm.
Common Names
-
Status
Native: Critically Endangered
Form
Epiphyte
Native Distribution
Thailand, Peninsular Malaysia, Singapore, Borneo, Indonesia
Diagnostics:
Pomatocalpa diffusum is a single-stem epiphytic orchid that can grow up to 5m long (Watthana, 2007). Roots can emerge throughout the length of the stem. The leaves are long and narrow (up to 20 x 4 cm). The inflorescences are branched with tiny yellow flowers. The petals are lined with reddish-brown edges.
Interesting Facts:
Pomatocalpa diffusum can only be found in Nee Soon Swamp Forest today (Lok et al., 2010). It has been recorded growing on trees in open and shaded areas of tropical forests, mangroves, beach forests, and around villages, as well as on granite bed rocks (Watthana, 2007).
Pomatocalpa diffusum growing on his host at the edge of the swamp forest.
Fruiting individuals
Small saplings
Leaf shealth on the stem.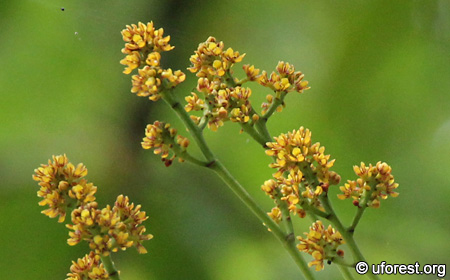 Minute branched flowers.
References
Lok AFSL, WF Ang & HTW Tan. (2010) The status and distribution in Singapore of Pomatocalpa diffusum Breda. Nature in Singapore, 3: 147-152.
Watthana S, (2007) The genus Pormatocalpa (Orchidaceae): A taxonomic monograph. Harvard Papers in Botany, 11: 207-256.
Author: Jake
Posted: 2013-10-12 / Modified: 2017-12-25