Etymology
Genus
From Latin rhodon=rose-coloured & amnion=surrounded by liquid; referring to the red fleshy fruits where the seeds were in
Species
Ash-colored; referring to the slivery leaf underside
Family
Myrtaceae
Synonyms
-
Common Names
Silverback, Siri-siri, Mempoyan
Status
Native: Common
Form
Tree
Native Distribution
Southeast Asia
Diagnostics:
Rhodamnia cinerea is a very common tree in our secondary forests, growing up to 20m. It is most easily distinguished from its oppositely arranged leaves, which are tri-veined, and have a silvery underside.
Interesting Facts:
From Sarah (2016), the Silverback serves as an important food source, with its leaves being eaten by the Malayan Flying Lemur, and the fruits being eaten and seeds dispersed by squirrels, bats, birds and monkeys. The timber is used for minor construction, while the rich tannin of the bark is used to tan fishing nets.
Fruiting branch of the Silverback at MacRitchie Reservoir boardwalk.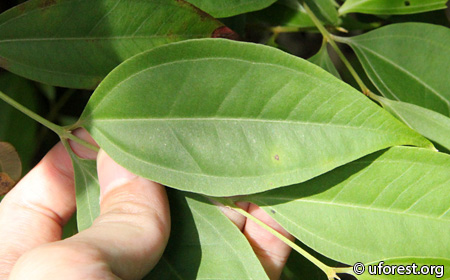 Leaf upper surface showing the tri-vein.
Silvery leaf underside.
Fruits.
Trunk.
References
Sarah Nabila Binti Rosli (2016) Rhodamnia cinerea Jack. Malaysia Biodiversity Information System (MyBIS). Retrieved November 18, 2019, from https://www.mybis.gov.my/art/166.
Author: Jake
Posted: 2019-11-18