Etymology
Genus
Divided (Schizo) pods (lobo); the inner & outer layers of the pods separated when mature
Species
After the state of Paraíba or the Paraíba River in Brazil
Family
Fabaceae
Synonyms
Cassia parahyba Vell.
Common Names
Brazilian Fern Tree, Guapuruvu
Status
Exotic: Cultivated Only
Form
Tree
Native Distribution
Tropical America
Diagnostics:
On first glance, Schizolobium parahyba look somewhat like a prehistoric tree. It is usually single-stemmed or sparsely branching from the individuals I have observed in Singapore, though photos of it in other countries showed that it can be otherwise. The large bipinnate leaves are arranged spirally near the tips of the branches, and the stem is very prominently marked by leaf scars.
Interesting Facts:
The Brazilian Fern Tree is a very fast growing tree species, with a growth rate of about 2m a year as recorded in one study (Piotto et al., 2004). It's unique form and splash of yellow flowers during its seasonal blooms makes it a popular cultivated tree at gateways and entrances.
Form of the Brazilian Fern Tree at Ang Mo Kio Hub.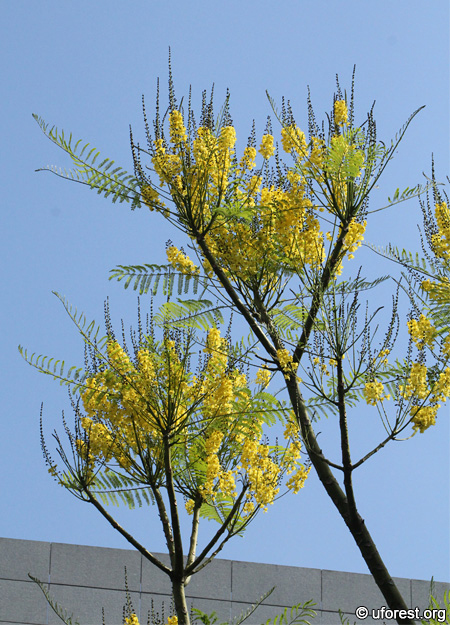 Yellowish inflorescences.
Spiral arrangement of its large fern-like leaves.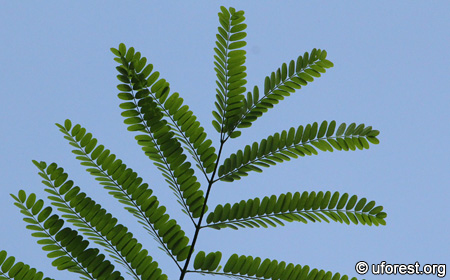 Leaflets.
Prominent leaf scars on the stem.
References
Piotto D, Viquez E, Montagnini F, Kanninen M. (2004) Pure and mixed forest plantations with native species of the dry tropics of Costa Rica: a comparison of growth and productivity. Forest Ecology and Management, 190: 359-371.
Author: Jake
Posted: 2015-04-04 / Modified: 2017-12-25