Etymology
Genus
After Sir John Shore, 18th century Governor-General of the British East India Company
Species
After William Roxburgh, 18th century Scottish botanist, who specialized in the flora of India
Family
Dipterocarpaceae
Synonyms
Shorea cochinchinensis Pierre
Common Names
Temak
Status
Exotic: Cultivated Only
Form
Tree
Native Distribution
India, Indochina to Peninular Malaysia
Diagnostics:
The chief diagnostics of Shorea roxburghii are the thick bark, with leaves that are elliptic-oblong, about 12x5cm, 16-nerved with long petioles about 2.5cm (Symington, 2007).
Interesting Facts:
Temak is said to be resistant to rough and fire comparing with other dipterocarps (Symington, 2007). It is a cultivated tree growing in popularity, being the 14th most common cultivated tree in Singapore at 2018 (Source).
A young cultivated tree at Yishun Ave 2.
A leafy branch.
Leaf close up.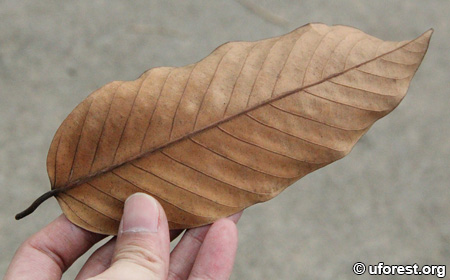 Dried leaf.
Stem & primary branching.
References
Symington CF. (2007) Foresters' Manual of Dipterocarps. Forest Research Institute Malaysia, Malaysian Nature Society, Kulau Lumpur. 519 pp.
Author: Jake
Posted: 2019-01-11 / Modified: 2019-08-27