Etymology
Genus
Cone flower
Species
Curved or wavy margins
Family
Acanthaceae
Synonyms
Strobilanthes crispus Blume
Common Names
Black Face General, Pecah Beling, Pecah Kaca
Status
Exotic: Cultivated Only
Form
Shrub
Native Distribution
Madagascar
Diagnostics:
A small shrub very commonly grown privately for medicinal use. The opposite leaves are very distinctive, with crenate margins, and rough in texture. The upper surface is dark green, glossy and deeply depressed secondary and tertiary veins. The stem, petiole and primary veins on the underside of the leaves are sometimes purplish.
Interesting Facts:
A study by NUS found that leaf extracts from the Black Face General having anti-cancer properties against certain cell lines (Rei, 2019). Its other traditional usage include resolving kidney problems, diabetes, or as a general detoxing product. The leaves and stem are commonly said to be boiled and drank as tea.

Black-face General in Pavilion Edible Garden, 2020.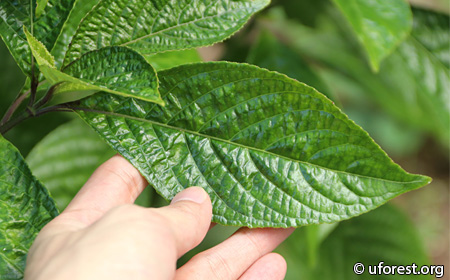 Leaf upper surface.
Leaf lower surface.
Leaf node.
References
Rei K (2019) Study finds anti-cancer properties in local plants. The Straits Times, Singapore. 11-May-2019.
Author: Jake
Posted: 2020-01-25