Etymology
Genus
After a 18th century Dutch botanist and physician, Gerald van Swieten
Species
Big leaf
Family
Meliaceae
Synonyms
-
Common Names
Broad-leaf Mahogany, Big-leaf Mahogany, False Mahogany, Sky Fruit
Status
Exotic: Casual
Form
Tree
Native Distribution
Tropical America
Diagnostics:
Large, dark green, and sickled shaped leaflets, that are arranged in clumps. This gives the tree a bushy feel. Another congenor cultivated in Singapore, Swietenia mahogani, is said to have much smaller leaflets, and also smaller fruits (Corner, 1997).
Interesting Facts:
This is one of our earliest cultivated trees; being introduced to Malaya (where Singapore formerly belongs to) in 1876 (Corner, 1988). Many huge mature stands still guard the streetscapes at many places, and it is the 3rd most commonly cultivated tree by NParks with 20,849 individuals (Tan et al., 2009). The scaly, crusted bark is easy to recognise together with its sickled-shaped leaflets. While the flowers are very small and inconspicious, the fruits are large and brown. When dried, the capsules split into five parts and release numerous single-winged seeds which spin.
The seeds are often collected by the local Chinese for treating several aliments, especially diabetes (Wee & Corlett, 1986), even during this present day of writing. However, the Health Science Authority has cautioned their use after several cases of liver injuries were reported after their consumption (CNA, 2018).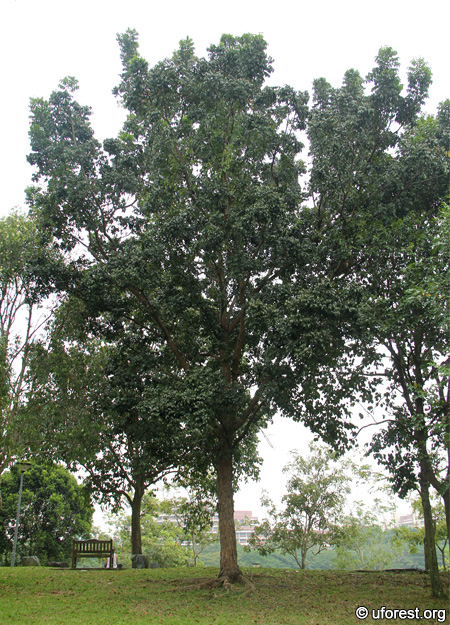 Note the very dark green foliage.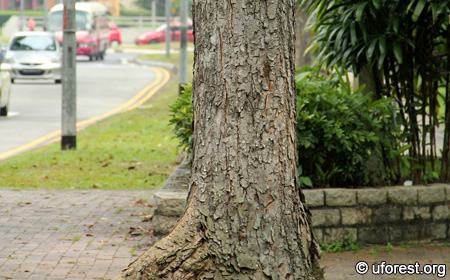 Mature trees have flaky bark.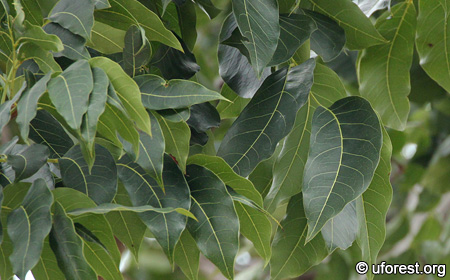 Dark, sickled shaped leaves.
Tiny inflorescences.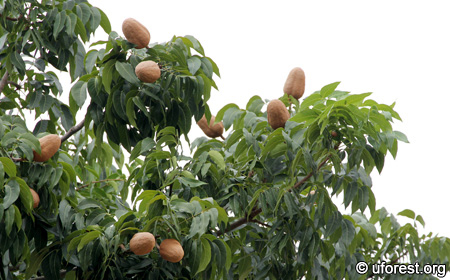 Stiff oblong fruits stands out conspiciously among the foliage.
The capsules split (left) to release single-winged fruits (right).
The ripe capsule peels open like a banana, revealing the seeds.
References
Corner EJH. (1997) Wayside Trees of Malaya. Volume 1. 4th edition. The Malaysian Nature Society, Kuala Lumpur. 476 pp.
Tan PY, B Yeo, WX Yip & HS Lua. (2009) Carbon Storage and Sequestration by Urban Trees in Singapore. Centre for Urban Greenery and Ecology, National Parks Board, Singapore. 14 pp.
Wee YC & R Corlett. (1986) The City and The Forest. Plant Life in Urban Singapore. National University of Singapore Press, Singapore. 186 pp.
CNA (2018) Reports of liver injury after consumption of 'sky fruit': HSA. Channel News Asia, Singapore. Accessed on 11-Dec-2018.

Author: Jake
Posted: 2012-10-06 / Modified: 2018-12-11