Etymology
Genus
Unknown
Species
Wavy margins
Family
Menispermaceae
Synonyms
Tinospora gibbericaulis Hand.-Mazz., Tinospora mastersii Diels
Common Names
Petawali
Status
Exotic: Casual
Form
Woody Climber
Native Distribution
Sri Lanka and India to Indochina, South China, Thailand, Malaysia, Java & Phillippines
Diagnostics:
A woody climber, Tinospora crispa is most distinctive from the stems covered in small knobs. The leaves are heart-shaped.
Interesting Facts:
The stem of Petawali or its powder is commonly sold in Chinese medical shops in Malaysia or Singapore (Samy et al., 2014). The decoction is taken to "treat stomachache, fever, gonorrhoea and worms". The stem and root extracts are also used for malaria, abscesses and high blood pressure treatment.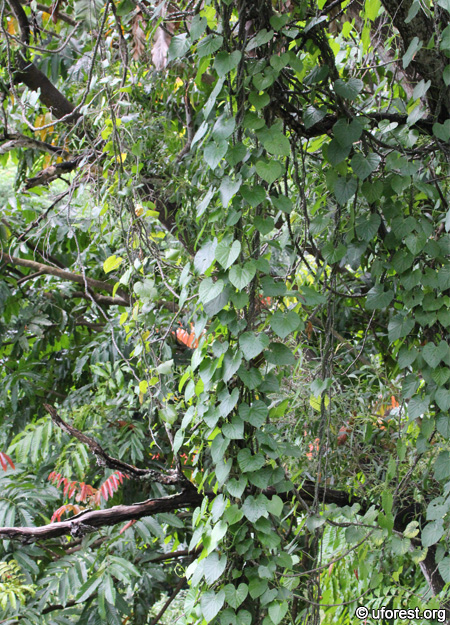 A tree in Kent Ridge Park covered by the Petawali.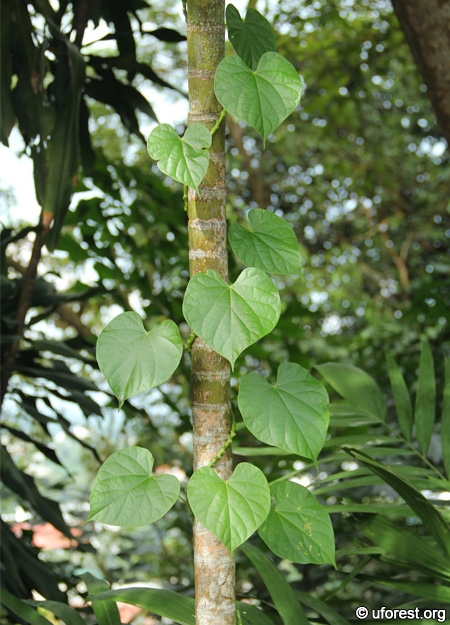 A close-up showing the heart-shaped leaves.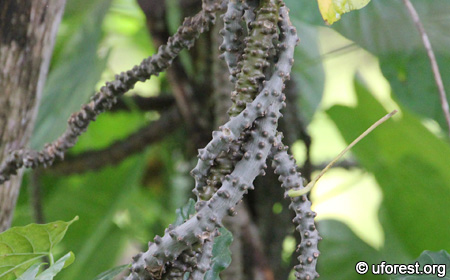 The very characteristic stem with little knobs.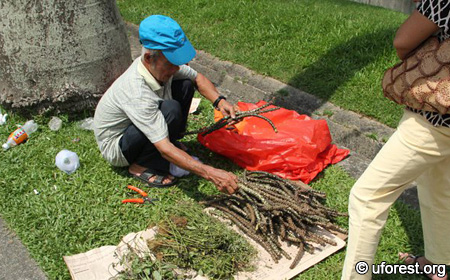 Seller marketing Tinospora stems outside a Chinese temple.
References
Samy J, M Sugumaran & KLW Lee. (2014) 100 Useful Herbs of Malaysia and Singapore. Marshall Cavendish Edition, Singapore. 247 pp.
Author: Jake
Posted: 2017-11-03 / Modified: 2017-12-25