Etymology
Genus
A bunch of grapes; referring to the clustered fruits
Species
Hairy
Family
Annonaceae
Synonyms
Guatteria pilosa G.Don, Uva hirsuta (Jack) Kuntze, Uvaria subcordata Miq.
Common Names
Hairy Brown Uvaria
Status
Native: Vulnerable
Form
Climber
Native Distribution
Mynamar, Thailand, Peninsular Malaysia, Singapore, Borneo, Java
Diagnostics:
Uvaria hirsuta is a forest woody climber. It can be distinguished easily from other Uvaria species from its brown hairs of about 2mm (Meade & Parnell, 2002) which cover the entire plant .
Interesting Facts:
The type specimen which was used to describe the Hairy Brown Uvaria by William Jack in 1820 was unfortunately lost when the ship where it was it sunk in 1821 (Meade & Parnell, 2002). A new type was assigned using Nathaniel Wallich's specimen which was collected around the same locality and time.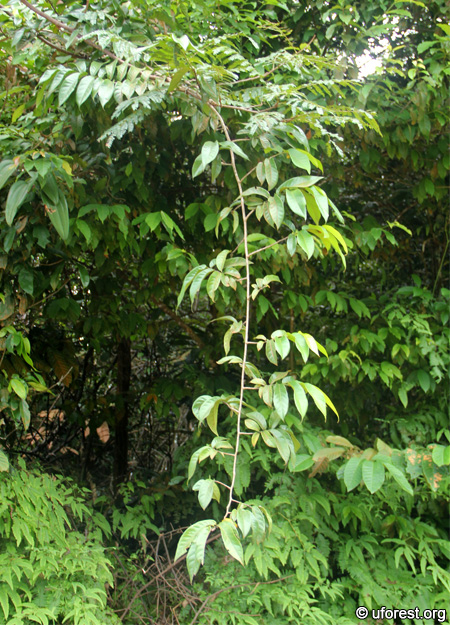 A leafy branch.
An overhanging specimen at a Macritchie Reservoir trail.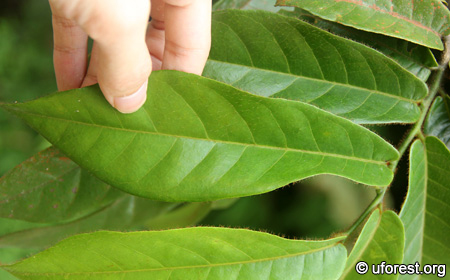 Leaf.
Cordate base may be present. Note also the brown hairs.
Diagnostic brown hairs of about 2mm.
The flower with striking red petals.
References
Meade CV & JAN Parnell. (2002) Neotypification of Uvaria hirsuta Jack (Annonaceae).
Author: Jake
Posted: 2014-02-01 / Modified: 2017-12-25