Etymology
Genus
After the botanist Johann Georg Volkamer
Species
Not spiny
Family
Lamiaceae
Synonyms
Clerodendrum inerme (L.) Gaertn.
Common Names
Wild Jasmine, Seaside Clerodendrum
Status
Native: Common
Form
Shrub
Native Distribution
China, Japan, Indian Subcontinent, Indochina, Malesia, Pacific Islands, Australia
Diagnostics:
A common shrub found in coastal areas, with droopy branches. The leaves are opposite, ovate or elliptic. The flowers are white petaled, tubular, and with very long red-purple stamens. Parts of the twigs and petioles might be purple too.
Interesting Facts:
From Giesen et al. (2006), a concoction from the leaves is used to treat wounds, and as an appetizer dish in Indonesia. The fruit is also used to treat dysentery.
A small cluster of Seaside Clerodendrum at Punggol Beach, 2020.
Flowers.
Leaf upper and lower surfaces.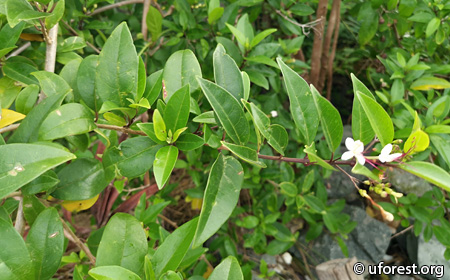 A branch.
Twig.
References
Giesen W, Wulffraat S, Zieren M & Scholten L (2006) Mangrove guidebook for Southeast Asia. RAP Publication 2006/07. FAO Regional Office for Asia and the Pacific and Wetlands International. Bangkok. 769 pp.
Author: Jake
Posted: 2020-02-23 / Modified: 2020-02-25