Etymology
Genus
After Franz Balthasar von Lindern, a German botanist
Species
Brittle and hard surface; reference to plant unknown
Family
Linderniaceae
Synonyms
Antirrhinum hexandrum Forssk., Torenia crustacea (L.) Cham. & Schltdl., Capararia crustacea L.
Common Names
Brittle False Pimpernel, Round-fruited Lindernia
Status
Undetermined
Form
Herb
Native Distribution
East Asia, Indian Subcontinent, Indochina, Malesia, and Queensland
Diagnostics:
Lindernia crustacea is a very common weed of lawns. It is very easy to identify it since it flowers gregariously all year round. The flowers are purple and white in colour. It also has a purple dot at the centre lobe of the lower lip. The leaves are serrated, ovate, ending with a pointed tip.Another similar species, Legazpia polygonoides has leaves that are broader at the base. The flowers are of a different in colour too.
Interesting Facts:
Beside lawns, Henderson (1959) also mentioned that they can be found in sandy areas, on rocks in streams or by the sea, and on sand dunes.
It is pretty easy to find the Brittle False Pimpernel when it is flowering.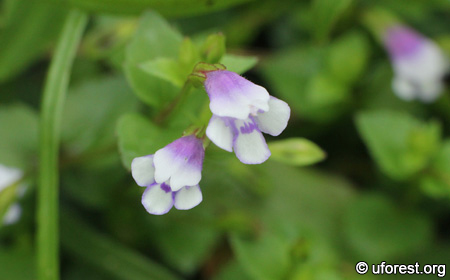 The purple-white flowers close up.
Frontal view of the flower.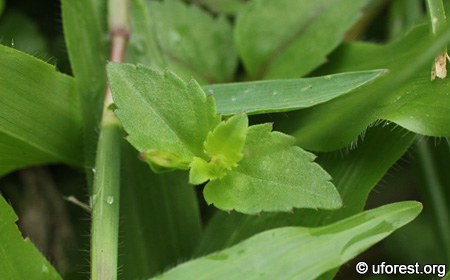 The ovate leafed flower with serrated margins.
References
Henderson MR. (1959) Malayan Wild Flowers: Dicotyledons. Malayan Nature Society, Kulau Lumpar, Malaysia. 478 pp.
Author: Jake
Posted: 2013-04-28 / Modified: 2019-08-27