Etymology
Genus
After the Greek name for Bryony
Species
Hanging; probably referring to the fruits
Family
Cucurbitaceae
Synonyms
Apodanthera gracilis Benth., Bryonia convolvulifolia Schltdl.
Common Names
Creeping Cucumber, Guadeloupe Cucumber
Status
Exotic: Naturalised
Form
Climber
Native Distribution
Throughout America (from USA to Argentina)
Diagnostics:
Melothria pendula is a very common sun-loving climber. The leaf margins have sparsely lined with teeth, and are gently concaved. Unlike another similar species Coccinia grandis, the leaves of M. pendula, while variable, are always one-lobed. The yellow flowers are also very minute (about 0.5cm).
Interesting Facts:
From its native habitat in America, the Creeping Cucumber have escaped and naturalised throughout tropical Asia, and Africa (de Wilde & Duyfjes, 2010).

The Creeping Cucumber climbing over a shrub at the fringes of a nature reserve.
Note the sparsely toothed margins of the leaf.
Tendrils are coiling.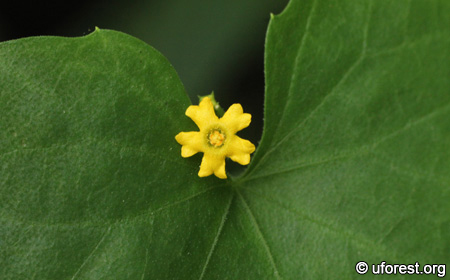 The yellow flowers are very tiny,
Fruit are small, about 1.5cm long.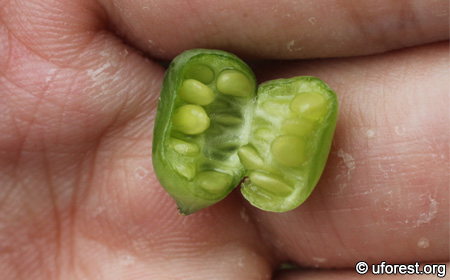 The seeds.
References
De Wilde WJJO & BEE Duyfjes. (2010) Cucurbitaceae. Flora Malesiana, 19: 1-342.
Author: Jake
Posted: 2012-07-31 / Modified: 2019-08-27