Etymology
Genus
An anti-depression (Nepenthe) used by Helen of Troy on her guests in Greek mythology
Species
From ampoule, a globular glass/earthware in reference to the shape of its pitchers
Family
Nepenthaceae
Synonyms
-
Common Names
Narrow-lidded Pitcher Plant
Status
Native: Vulnerable
Form
Herbaceous or woody climber, or herb
Native Distribution
Malesia (Peninsular Malaysia, Sumatra, Borneo, and New Guinea)
Diagnostics:
If the plant has pitchers, the narrow and backward flipped lids of the pitchers will be suffice for identification. Otherwise, the leaves are shortly winged to the stem, the undersides (and new shoots) are covered with brown hairs, and the leaf blades runs all the way to the stem with no distinct petiole.

Interesting Facts:
This is the most uncommon (non-hybrid) Nepenthes species in Singapore, though it is still possible to find them in decent populations at the right localities. This include the forests in and around Kent Ridge Park, Bukit Timah Nature Reserve, Central Catchment Nature Reserve, Telok Blangah Park, as well as some offshore islands like Pulau Ubin and Sentosa (Chan et al., 1997).

While the the narrow backward flipped lids on the pitchers is a definite diagnostic, I have seen some which have broader lids that shields the pitcher opening instead. I suspect that these were young pitchers that were not fully developed judging from their small sizes. The upper pitchers of this plant are funnel-shaped, but are rarely seen. In any case, it seems that the lids do not shield the opening for a reason. It was showned by Pavlovič (2011) that this allows it to capture and digest plant debri, making the species not only a carnivorous, but also a herbivorous plant.

Together with Nepenthes rafflesiana, N. ampullaria was first discovered in Singapore by Dr William Jack in 1819, the doctor who accompanied Sir Thomas Stamford Raffles.
Woody stems climbing up to the canopy.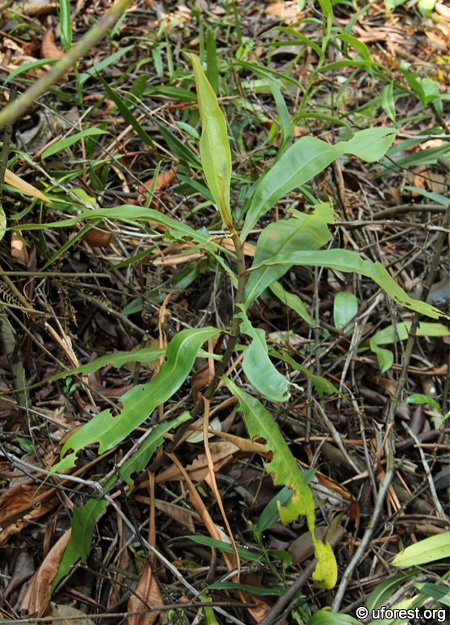 Habit of the short vine.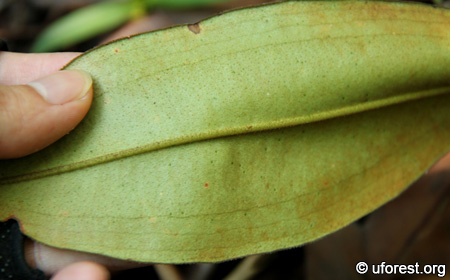 Note the tiny brown hairs and three lines running along the margin.
Short leaf-wings flanking the stem. Leaves do not have petioles.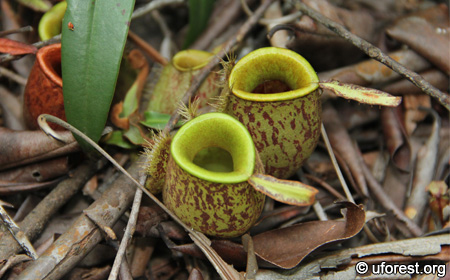 Lower pitchers which are urn-shaped with narrow backward flipped lids.
References
Chan KL, LMJ Chen, JPS Choo, TL Koh, TM Leong, PKL Ng, HTW Tan, WK Tan & CL Wong (1997) A Guide to the Carnivorous Plants of Singapore. Singapore Science Centre, Singapore. 176 pp.
Pavlovič A., Ľ Slováková, J Šantrůček (2011) Nutritional benefit from leaf litter utilization in the pitcher plant Nepenthes ampullaria. Plant, Cell & Environment, 34: 1865-1873.
Author: Jake
Posted: 2012-10-23 / Modified: 2019-08-27